May reported to advertising watchdog for 'misleading' Brexit dividend claim by Labour's deputy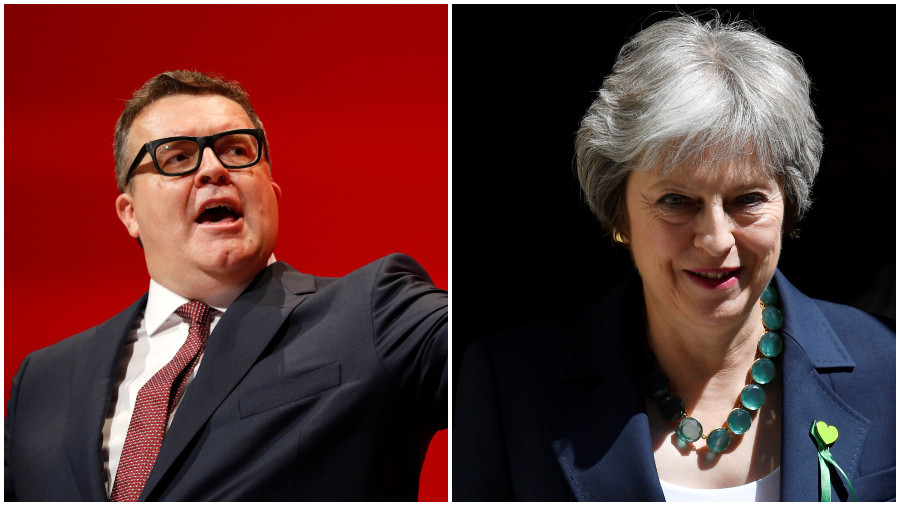 The deputy leader of Labour has reported UK PM Theresa May to the Advertising Standards Authority (ASA), for "misleading" when she suggested that a 'Brexit dividend' will help provide financial resources for the NHS.
Tom Watson MP, Labour's deputy leader and shadow culture secretary, has written to the ASA chief executive, Guy Parker, to say that "the 'Brexit dividend' is widely regarded as at best misleading and at worst a complete myth," report Politics Home.
Watson is unhappy with the prime minister's No. 10 Downing Street twitter account posting a thread of graphics promoting 'the Government's policy of extra funding for the NHS, in part through a 'Brexit dividend' to millions of followers'.
One graphic says: "Our long-term plan for the NHS. Funded by the Brexit dividend, with us as a country contributing a bit more."
In his letter, Watson writes: "The ASA website states clearly that 'local authorities, government and other public bodies should be aware that their ad campaigns, like those of commercial companies, are subject to the rules in the Advertising Codes'.
"The thread of graphics posted by the UK Prime Minister Twitter account was an ad campaign promoting the Government's policy to millions of followers.
"The website goes on to say 'the ASA will intervene if an ad by a public body crosses the line, whether that's through being harmful, offensive or misleading… government departments, local authorities and other public bodies should also ensure that their ads are not misleading and that objective claims are supported by robust evidence'.
"Unfortunately, the 'Brexit dividend' is widely regarded as at best misleading and at worst a complete myth."
This comes after May had given interviews on Sunday, including to one of her former advisers, Tom Swarbrick on LBC radio, where she announced that the NHS would receive an extra £20bn a year by 2024 – an increase of 3.4%. This, the PM said, would come in part, from a 'Brexit dividend', as the UK will be able to "take advantage" of the fact that "we've got money we're no longer sending to the European Union".
The idea of a Brexit dividend was quickly pounced on by various economists, political commentators and even Tory MPs on Social media. Paul Johnson from the Institute of Fiscal Studies (IFS), whose research is often quoted by the UK government, told the BBC's Sunday Politics show that "there isn't a Brexit dividend".
Tory remain-rebel Dr Sarah Wollaston MP was seemingly not impressed with May's words on LBC. She said: "The Brexit dividend tosh was expected but treats the public as fools. Sad to see Govt slide to populist arguments rather than evidence on such an important issue."
John McDonnell, the Shadow Chancellor has also attacked the PM for her NHS spending announcement, suggesting that there'd have been uproar if he had identified the same source of funding for the NHS as a 'Brexit dividend'.
Stating: "Can you imagine if I came forward like this? There would be accusations of magic money trees. This is a magic money forest that's come out."
Like this story? Share it with a friend!