Scrapyard inferno chaos: Airport closed, motorway brought to knees after huge blaze
Published time: 15 Jun, 2018 11:58
Edited time: 16 Jun, 2018 11:36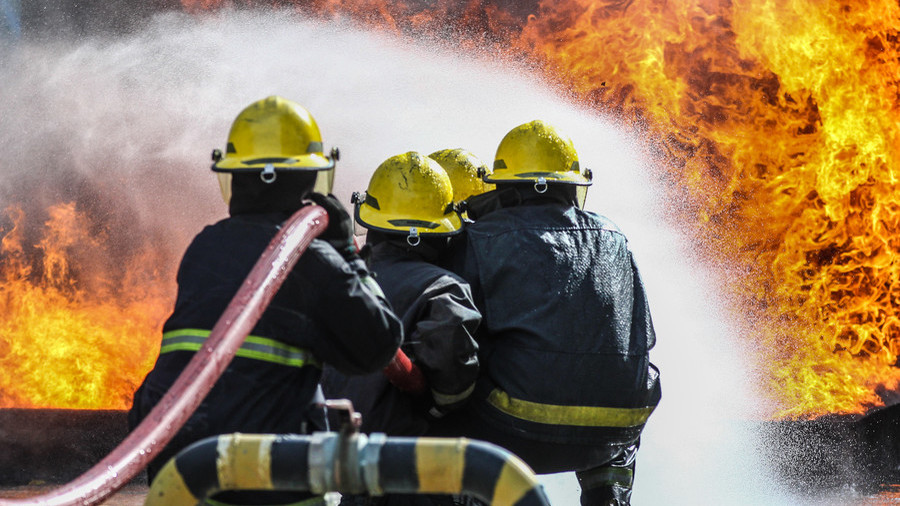 An out-of-control blaze at a scrapyard has grounded planes at a UK airport, as plumes of thick black smoke fill the sky and the A45 is brought to its knees. Coventry fire crews are fighting to get the incident under control.
As of 12.04pm, 12 fire trucks from Coventry, Binley, Kenilworth, Leamington, Rugby were battling the blaze. Crews have been spotted using aerial platforms to dump water on the flames. Witnesses have also spotted columns of fire shooting up through the smoke.
The fire, which broke out at a 60x40 meter scrapyard opposite the former Peugeot factory site in Ryton, Warwickshire, has caused the nearby Coventry Airport to suspend flights as clouds of black smoke spill out across the midlands. The air ambulance, which operates out of Coventry Airport, has confirmed it is still operating.
Witnesses have reported hearing loud bangs at the scene of the scrapyard fire, and a parent has told a local newspaper that pupils at a nearby school are being kept inside during their lunch breaks due to health and safety concerns from the smoke. The Warwickshire Fire and Rescue Service have also told locals to keep their windows and doors closed to reduce the risk of smoke inhalation.
A spokesman for Warwickshire Fire and Rescue Service said: "Our crews are currently in attendance at a scrap fire on the London Road, A45, Ryton on Dunsmore. Our fire control have received a number of calls to this incident. A plume of smoke is coming from the incident which may affect the surrounding area. Our Fire Control have received a number of calls from members of the public regarding the smoke plume from the fire in Ryton on Dunsmore.
"We would advise at this stage to close all windows and doors as a precautionary measure whilst we deal with the incident." The fire service also urged motorists to take care while driving on the A45 as the thick smoke may impair vision.
Police confirmed they are at the scene of the fire. "We can confirm that police have been deployed to a fire that can be seen from the A45 in Ryton. No road closures at this time." Police are, however, directing traffic on the A45 as motorists slow down for a look.
Think your friends would be interested? Share this story!