'Let's not get on high horse about racism in Russia, it's an issue here in UK' - John Barnes (VIDEO)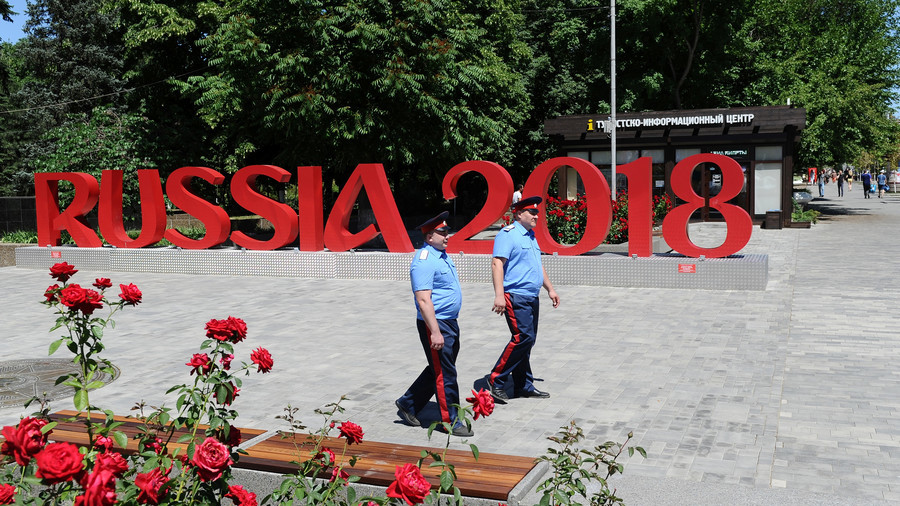 Legendary ex-Liverpool and England footballer, John Barnes has said that Brits should not get on their "high horse" about racism in Russia, because it's fantastic here, it's not," in an interview on RT's Sam Delaney's News Thing.
With the football World Cup in Russia under a week away, Barnes took the opportunity to shine a light Britain's own systemic problems with racism as well as more generally in the wider world. He argues that singling out Russia was an easy thing to do; pretending all is wonderful at home, failing to acknowledge the major social issues in the UK.
Barnes, known for his exquisite rapping skills in England's 1990 World Cup song, "World in Motion", told RT's Sam Delaney: "There's a big deal of racism all over the world, there's a big deal of racism in this country.
"If you go to any inner cities and you see the lack of education and social opportunities for people in this country, so let's not get on our high horse and say isn't it terrible in Russia because it's fantastic here, it's not."
It comes after a torrent of scare stories, predominantly directed at fans planning to attend the football tournament in Russia, emanating from the UK.
British MPs from the Foreign Affairs Committee warned on Thursday that Russia's homophobic laws meant that openly homosexual football supporters would "not only face the risk of violence from vigilante groups, but lack adequate protection from the state."
Tom Tugendhat, chair of the committee, said: "Vague reassurances from Foreign Office ministers have not been enough to reassure us that UK nationals will be safe, regardless of their background or sexual orientation."
That's despite Deputy Chief Constable Mark Roberts, the National Lead for Football Policing, telling MPs in May that Russian organizers wanted to host a "safe tournament", intimating that the Russian police have the intention and the ability to keep people safe.
Britain's Daily Star newspaper ran a story in May, warning that "Videos posted on YouTube show gangs of [Russian] men, women and child hooligans taking part in organised fights to prepare for clashes with England supporters." The tabloid seemed to be insinuating that some light football violence is a family day out for most Russians, which no doubt feeds into a general irrational fear of Russians.
Barnes is not the only famous ex-England footballer to refusing to join in the Russia-bashing ahead of the World Cup. Former England striker turned TV pundit Gary Lineker provoked outrage from Daily Mail columnist Dominic Sandbrook with his Radio Times magazine interview concerning criticism of Russia.
As predicted yet another hatchet job from the lovely agenda driven Daily Mail. I've never uttered a word in support of Putin and never would. It's absurd to suggest otherwise. Also, I love my country and representing England at 2 World Cups filled me with pride. Night all.

— Gary Lineker (@GaryLineker) June 6, 2018
He told Radio Times: "Who are we to start getting judgmental on who should have the World Cup? We all know how corrupt our country is at times. Perhaps we don't like some things that [Russian president] Putin has done, but we'll be there, we'll be their guests.
"I don't know what [violence] you're expecting to kick off. Well, nothing will. Because it never does, it'll be fine. It'll be great. What governments do is another matter, but the people of Russia have actually been very welcoming."
In his column, Sandbrook comically claimed that Brits had "every right to be judgemental", because "we have the good fortune to live in one of the world's least corrupt countries."
There will no doubt be a ramping up of scare stories to disentangle between now and the start of the 2018 FIFA World Cup in Russia. Rational stories on Russia will probably be few and far between.
Omar Baggili, RT Journalist
Like this story? Share it with a friend!