'Corbyn takes money from Kremlin': Russian phone pranksters appear to fool Boris Johnson (AUDIO)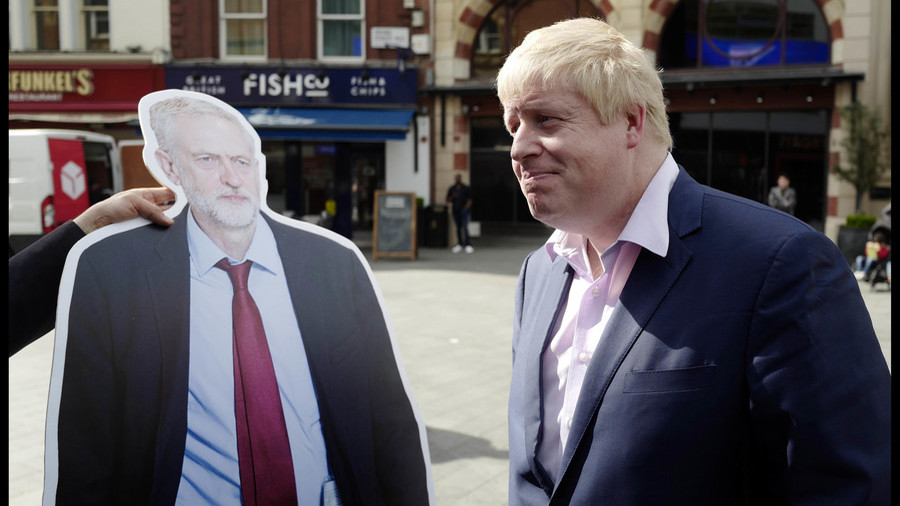 Boris Johnson appears to have been caught in the crosshairs of Russian rascals Lexus and Vovan. The prankster pair managed to get the foreign secretary on the phone for an 18-minute chat about some pretty serious state matters.
The duo released a supposedly uncut clip of the call with a man who sounds like UK Foreign Secretary Boris Johnson, although his identity has not been officially verified. During the call, which Lexus and Vovan claim happened last week, one of the crank callers pretends to be the recently appointed prime minister of Armenia, Nikol Pashinyan.
The voice on the audio sounds remarkably like BoJo, though there is no way to confirm if the audio has been doctored or changed.
In the 18-minute recording, the prankster that claims to be Pashinyan speaks in English to Johnson with a strong Russian accent. 'Pashinyan' can be heard asking the alleged UK foreign secretary for information about the Salisbury poisoning, the location of Yulia Skripal, and for advice on how to deal with Vladimir Putin.
Things start to get a little heavier when the jokers levied some pretty serious accusations against Labour leader Jeremy Corbyn.
"I'm not sure if I should share this information because I'm not absolutely sure about [it]," the prankster posing as Pashinyan said. "As you know I talked to Mr. Putin by telephone and he was quite open.
"He say that he is a very powerful man and that even in the UK he has his people at power. He says that he has influenced the leader of the Labour Party, Mr. Corbyn."
The other voice, reportedly belonging to Johnson, interjects with "Really? He told you that he was influencing Jeremy Corbyn? Did he go into detail or did he just say that Jeremy Corbyn was someone he was able to influence?"
"I don't know," the Russian replied. "But he said Mr. Putin's goddaughter, Ksenia Sobchak, who is host of low quality TV programs, she visited London the other day and met with people of Mr. Corbyn and gave them money for the Kremlin.
"I'm not sure if Putin was trying me on but you and your intelligence must be aware. I hope you will talk with your intelligence to discuss."
"I'm extremely interested, prime minister," the man who is apparently BoJo can be heard replying, although he did seem hesitant at the suggestion that Corbyn could have links to Russia. "I'm sure our intelligence will be listening on this line and draw the relevant conclusions, I'm sure. Thank you very much for that interesting tidbit of information."
The pranksters finally pushed it too far by playing on the UK's concerns about alleged Russian poisonings. The jokester can be heard claiming that Poland's prime minister had been poisoned and fell over.
"Last I spoke with President of Ukraine Petro Poroshenko recently. He is OK, he had meeting with the prime minister of Poland, Mateusz Morawiecki.
"It was an accident. He fell down. He was poisoned but he had special antidote that he keeps it with him always. Did u hear about opohmel?"
At that point the jig is up and the call drops out, presumably because it clicked with BoJo or one of his advisers that legs were being pulled.
The Foreign Office has not yet commented on the alleged prank.
Think your friends would be interested? Share this story!
You can share this story on social media: