'Hiding behind free speech:' Muslim vlogger slams Tommy Robinson after violence at March for Freedom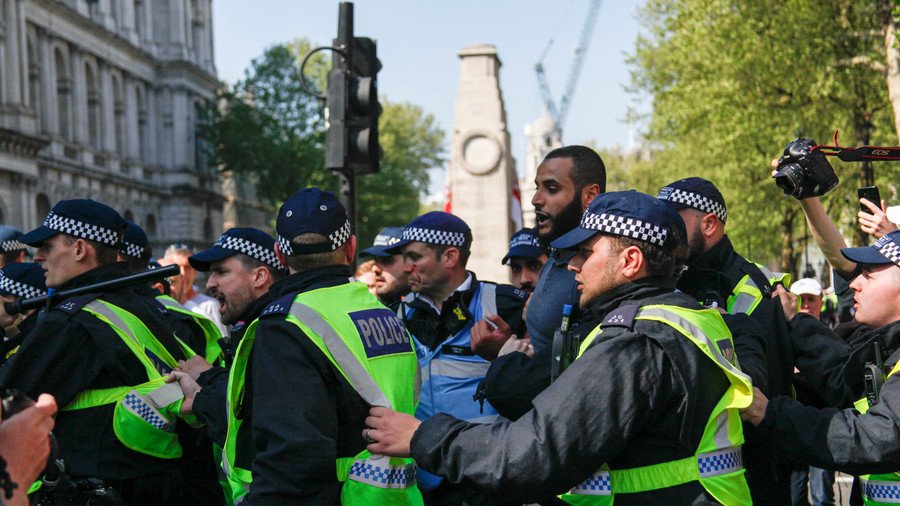 A prominent Muslim YouTuber accused Tommy Robinson of "hiding under the banner of free speech" after being attacked by attendees at the Day for Freedom event rally in Central London on Sunday.
Ali Dawah, who boasts more than 224,000 subscribers on YouTube, said he was banned from talking at the Day for Freedom event in Whitehall. He claimed the former English Defence League (EDL) Robinson propagating the right of free speech is a "camouflage" to peddle his Islamophobic "agenda."
"They are hiding under the banner of free speech, because they don't really believe in free speech. Surely if they believe in what they really believe and they are not hypocritical they would have no problem with me coming," Dawah told RT.
Robinson is merely "using it to vilify islam and carry out their goal-which is a civil war," the orthodox Muslim vlogger added.
Robinson called on the demonstration to take place to counter what the he, and other organisers, perceive as an attacks on their freedom of speech. Robinson has just recently been banned on Twitter, while fellow participant, Canadian far-right activist Lauren Southern, has been given a lifetime ban from Britain after she distributed racist leaflets at Heathrow.
Dawah posted footage of him and his supporter Mohamed Hijab being attacked at the rally by what Dawah said were "drunk and aggressive" Football Lads Association (FLA) members, as well as Robinson's supporters.
"They were barging us from behind, I told them 'don't touch me', you could see they were starting to get aggressive," Dawah told RT.
"We thought they were going to kill us," the Muslim preacher said, adding his friend Hijab had been punched and kicked.
Dawah said he believes in the fundamental right to free speech, but that that differentiates from hate speech.
"We live in the UK, we have a right to criticize but that doesn't mean you have a right to preach hate," Daway said.
"The hateful words of Robinson saying' these [Muslims] are all enemy combatants...' You're making it seem like it's 'us against them.'
"His aim is to get a civil war for his own reasons, to further his agenda. If he gains power, I genuinely believe he will slaughter us."
He said Robinson's "hate preaches" are the reason the mob had "issues" with him and his faith.
Dawah, who has previously confronted Robinson over his islamophobic views, said the far-right pundit purposefully vetoed him from featuring on stage "to waste my time and make me look like an idiot." He added that Robinson had utter control of the speakers list on Sunday, as if he said 'no' to someone getting on stage, organizers had 'no right to say yes.'
When asked his account of events, one of the organizers, George Llewelyn-John, told RT all he could say was that there had been a series of "unfortunate circumstances" that had led to a "communication mix up."
If you like this story, share it with a friend!
You can share this story on social media: