'They can take our Irn Bru, but they'll never take our freedom!' Scots blast Trump for soda ban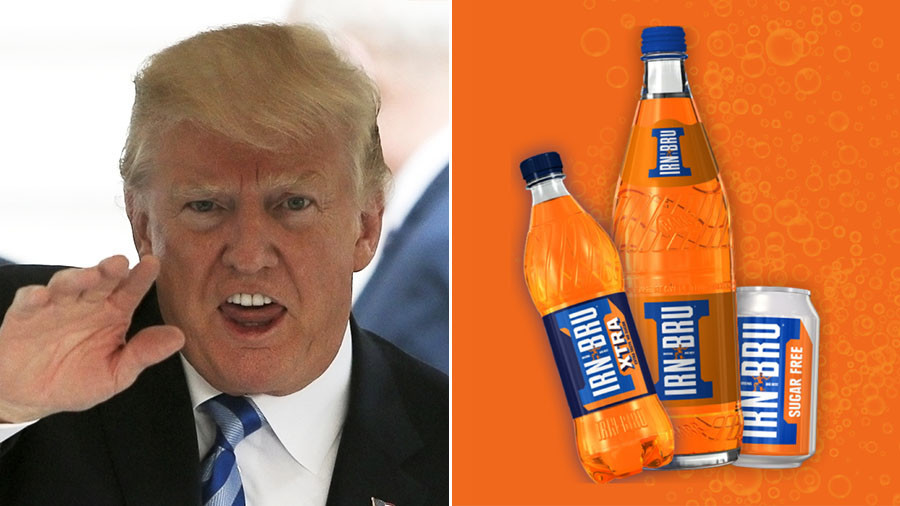 Irn Bru-hued Donald Trump has committed a grave act of sacrilege in Scotland – banning the nation's favorite drink from his golf club in Ayrshire. Horrified Scots have taken to social media to vent their fury at the Irn Bru ban.
So why ban Scotland's drink of choice in the first place? According to staff, the orange soda could irreversibly stain the luxury club's plush carpets. Turnberry's General Manager Ralph Porciani told the Ayrshire Post: "We can't have it staining when to replace the ballroom carpet would be £500,000 ($680,000) alone. We have villas here with Irn-Bru stains in the carpets which I can't let."
The POTUS, whose mother was born on the Isle of Lewis, also owns a golf course in Aberdeenshire. However, it has not yet been confirmed whether Irn-Bru has also been added to the list of contraband items at the Trump International Golf Links resort.
The ban has left Scots in shock, with many taking to Twitter to air their feelings about the American president's ban on their favourite fizzy drink.
A spoof Irn-Bru account boasting nearly 11,000 followers tweeted the POTUS directly, vowing not to be broken by sticks, stones… or soda pop bans. Others suggested they fire at the American president with a water cannon filled with the orange drink.
Despite The Donald's love for Scotland, the feeling is not quite reciprocated en-masse. In 2016, 50 left-wing activists forced their way into two of Trump's hotel resorts in Scotland to protest a man they called "one of the world's most prominent racists." In 2017, a Scottish woman sued one of Trump's golf courses after staffers photographed her weeing without her knowledge or consent.
The embattled American president is expected to meet Queen Elizabeth II at Balmoral when he visits the UK this summer.
Think your friends would be interested? Share this story!