Kim Jong-un, Donald Trump among Nobel Peace Prize favorites, says UK betting agency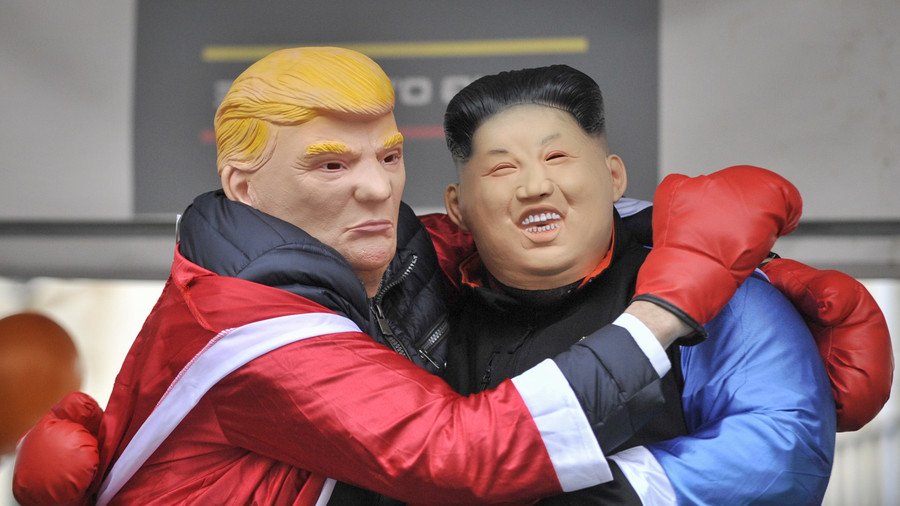 North Korean leader Kim Jong-un and US President Donald Trump are among the main contenders for the Nobel Peace Prize – that is, if you believe the odds set by UK betting giant Coral.
Often branded the two leaders that most threaten global stability, the North Korean dictator and the famously volatile American president are the unexpected leads for the peace prize. Kim and South Korean President Moon Jae-in are the odds-on favorites at 4/6, followed by Trump at 10/1.
Trump, who bragged that he was "very proud" after 92 people were killed when he dropped the "mother of all bombs" on Afghanistan in 2017, is neck and neck at 10/1 with the United Nations High Commissioner for Refugees (UNHCR), who actually has a legitimate reason to be on this list thanks to (obviously) their extensive work protecting refugees from war-ravaged lands.
Kim and Moon shot to the top on Friday after the two nations signed a declaration on complete denuclearization after their first meeting in over a decade.
Both nations are seeking to completely denuclearize the Korean peninsula. If successful, their joint work could see peace between the nations, which have been in a frozen conflict for more than 70 years following the Korean War.
Trump is not known for his reserved nature. He frequently unleashes his fury on Twitter, once calling Kim Jong-un "little rocket man" and threatening Syria and Russia with "smart" missile strikes should they defend their forces following the alleged chemical attack in Douma. It is unclear why Coral has chosen to include the POTUS in its list, or even why he is so high in the ratings… but perhaps it has some insider knowledge about Trump' placidity that we don't.
Things are a bit lacking in terms of peace prize contenders from the UK. Only one Briton made it to the top 12 contenders – Labour leader Jeremy Corbyn at 100/1.
An outside bet could be Russian President Vladimir Putin, who at 50/1 might be worth a flutter.
Think your friends would be interested? Share this story!
You can share this story on social media: