'Go home or face arrest' vans approved while she was on holiday – May's former special adviser
Published time: 19 Apr, 2018 11:15
Edited time: 20 Apr, 2018 07:50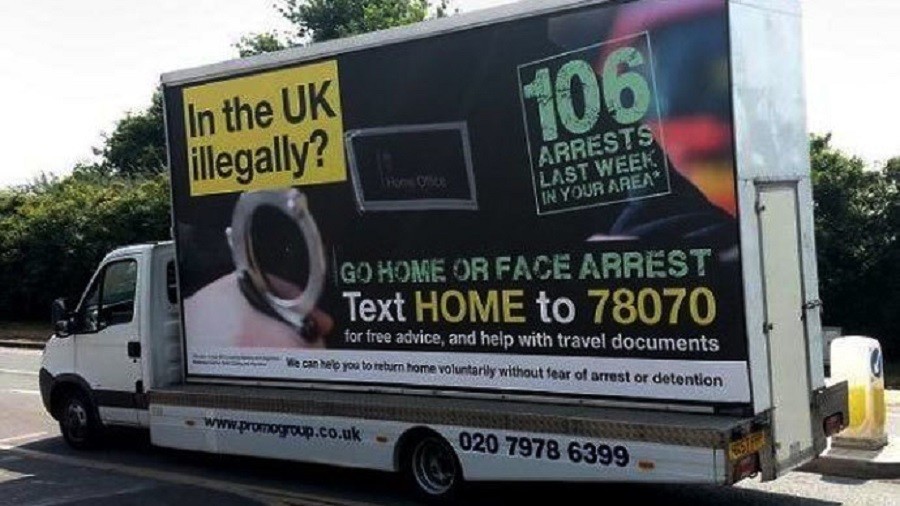 The calamitous 'go home or face arrest' vans that were paraded through London in 2013 were "revived and approved" while then-home secretary Theresa May was on holiday, according to her former special adviser Nick Timothy.
In his column for the Daily Telegraph, Timothy wrote: "As home secretary, Theresa May was criticized for the notorious 'go home or face arrest' vans that were deployed in 2013. In fact, she blocked the proposal, but it was revived and approved in a communications plan while she was on holiday. She killed off the scheme later that year, but by then the damage had been done."
In my column today I also reveal the truth about the notorious "go home or face arrest vans": TM was opposed to them and they were approved while she was on holiday in 2013. pic.twitter.com/E9RYGldCcB

— Nick Timothy (@NickJTimothy) April 19, 2018
The mobile billboards that toured six London boroughs were designed to encourage illegal immigrants to leave the UK as part of May's "hostile environment" strategy. It drew widespread criticism, with then-shadow home secretary Yvette Cooper suggesting they had borrowed "the language of the 1970s National Front."
Following Nick Timothy's column about Theresa May and the "go home" vans, I just want to make it clear that all the bad articles I've ever written, I was opposed to them, and they happened when I was on holiday anyway.

— Martin Belam (@MartinBelam) April 19, 2018
The latest claim from Timothy may call into question what other controversial policies that could have been approved without Theresa May's consent because of holiday leave.
READ MORE: Like 'Nazi Germany': Ex-civil service boss denounces May's immigration policies
Could it be that Theresa May had a really bad phone signal while trekking up Snowdonia, and didn't actually sign off on the 'Dementia Tax,' a vote to legalize fox-hunting, ending the triple-lock on pensions, axing universal free school meals for five- to seven-year olds, and the introduction of new grammar schools? All of these policies were subsequently dropped from the Queen's speech after the 2017 general election.
Or did May have so little control over her department that stand-out policies were made without her approval?
Haha, the old 'I was on holiday when it happened so you can't blame me' line is straight out of The Thick of It.

Literally.

— Lee (@Grafiklee) April 19, 2018
For now though, we can all wait with bated breath for the next Nick Timothy disclosure on Theresa May. Could it be that, fresh from another walking holiday, he heard her say: "You've promised the DUP how much so that we can remain in power?!" Surely not!
Omar Baggili, RT Journalist
If you like this story, share it with a friend!