'Huge mistake': Hundreds protest outside Downing Street over British intervention in Syria (VIDEO)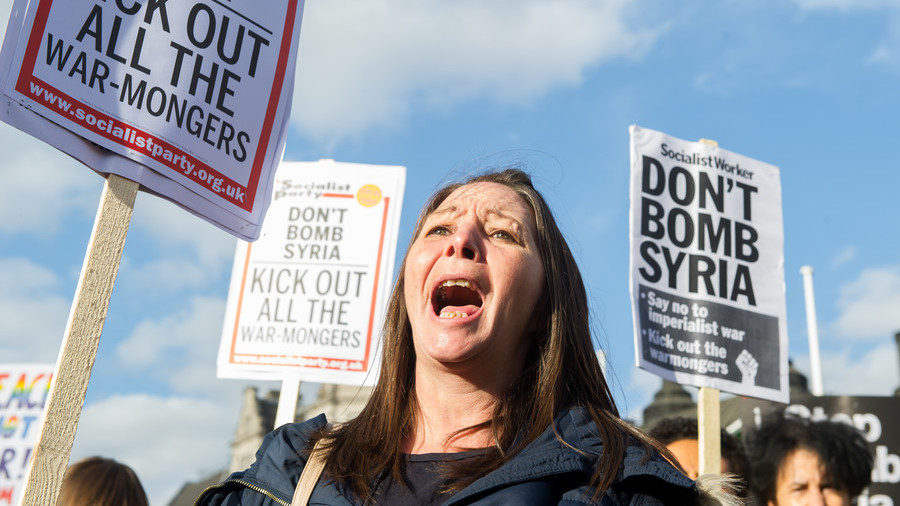 Anti-war campaigners gathered outside Downing Street to condemn Prime Minister Theresa May's "huge mistake" in authorizing airstrikes against Syrian leader Bashar al-Assad without parliamentary consent.
Several hundred protesters holding 'Don't bomb Syria' banners and chanting "Theresa May hear us say, airstrikes no way", came out in protest at Saturday's intervention, which Labour Leader Jeremy Corbyn branded "legally questionable."
Emma Dent Coad, Labour MP for Kensington, was among the protesters slamming Britain's airstrikes as she told RT: "I think she made a huge mistake, we should have discussed this in Parliament but more than anything we should have waited for the results from the Organization for the Prohibition of Chemical Weapons (OPCW) and the UN security council's agreement if it was forthcoming."
Another protester said: "Why is it that the government has carried out this attack without a debate in the House of Commons?"
It comes as MPs gathered for an emergency debate in the Commons for a second time this week to discuss Parliament's right to have a say on any military intervention prior to action being launched. Corbyn secured the debate, during which he called for a new War Powers Act that would make consultation mandatory.
Another protester told RT: "At the end of the day, Theresa May is a representative of the public and as a taxpayer my MP should've been consulted over the attack."
If you like this story, share it with a friend!
You can share this story on social media: