May rejects Corbyn's 'War Powers Act' demand in emergency debate on Syria strikes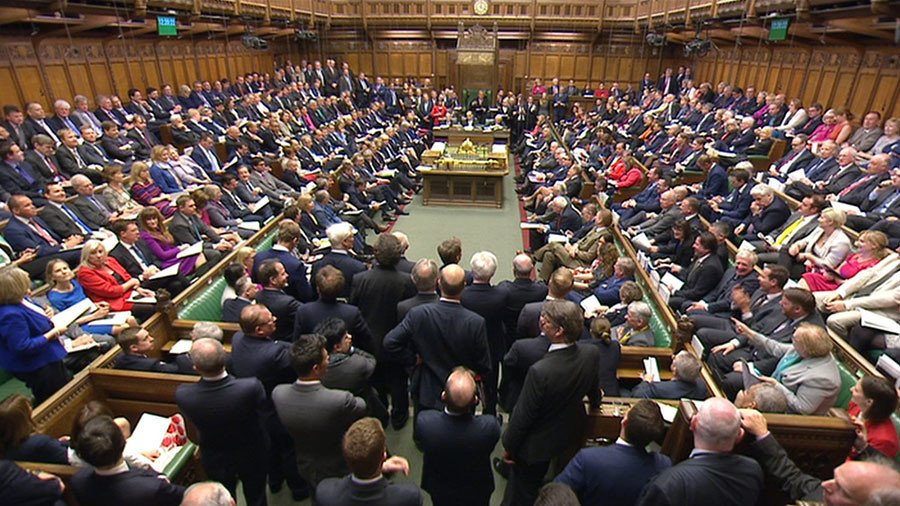 MPs gathered for a second emergency debate on Syria in just two days, to discuss whether parliament should retain the right to approve military action before it is launched. Jeremy Corbyn wants an official War Powers Act.
Labour leader Corbyn said there is an "urgent" need to discuss MPs' right to approve planned military action after air strikes against Syria went ahead without MPs even being asked.
Corbyn argued that the convention to consult Parliament is being "tossed aside as simply inconvenient" and that the "government's actions [this weekend in Syria] clearly demonstrates why Parliament must assert its authority on this subject."
Corbyn said his proposed War Powers Act "could specify at what point in the decision-making processes MPs should be involved, as well as retaining the right for ministers to act in emergencies or for the country's self-defense."
The Labour leader declared the act would ensure "Parliament has fundamental power over government" to decide on international conflicts.
In-between interventions from MPs, Corbyn blasted the government for failing to take into account the Chilcot Report's recommendations for "stronger safeguards to ensure proper collective consideration" for issues of "vital importance."
In turn, Prime Minister Theresa May addressed parliament. She stressed that her government "shares completely the principle that in a parliamentary democracy elected representatives in this House should be able to debate the deployment of British military forces into combat," but added it was "wrong" to assume the government must do that in case of emergency.
The Tory leader hit back at claims, alluded to by Corbyn, that she was taking orders from US President Donald Trump, saying: "Neither I or this government take instructions from any president or national government. When we act, we act in what we believe is the national interest. That is our only concern."
She then hit out at her critics, saying they should value the upholding of international rules that have "kept us safe over the years."
It comes after Corbyn branded Prime Minister Theresa May's decision to intervene alongside the US and France in Syria "legally questionable." He hit out at the Tory leader for failing to seek parliamentary approval before authorizing the missile strike against Syria's leader Bashar Assad in the early hours of Saturday morning.
He said the PM should be "accountable to this parliament, not to the whims of the US president," as he questioned May's claim that the strikes were carried out to alleviate human suffering in the war-torn Middle East country.
Corbyn is calling for a new War Powers Act, legislation aimed at making it mandatory for parliament to approve military action before it is launched.
May announced early on Saturday that she had decided to join the US and France in launching airstrikes against three alleged chemical-weapons sites in Syria. The joint intervention came in retaliation for an alleged chemical attack that reportedly killed 70 people in the town of Douma, Eastern Ghouta.
Syria has rejected the allegations, but NATO considers Assad responsible for the April 7 attack.
You can share this story on social media: