Skripals attacked with nerve agent 'in liquid form,' government department says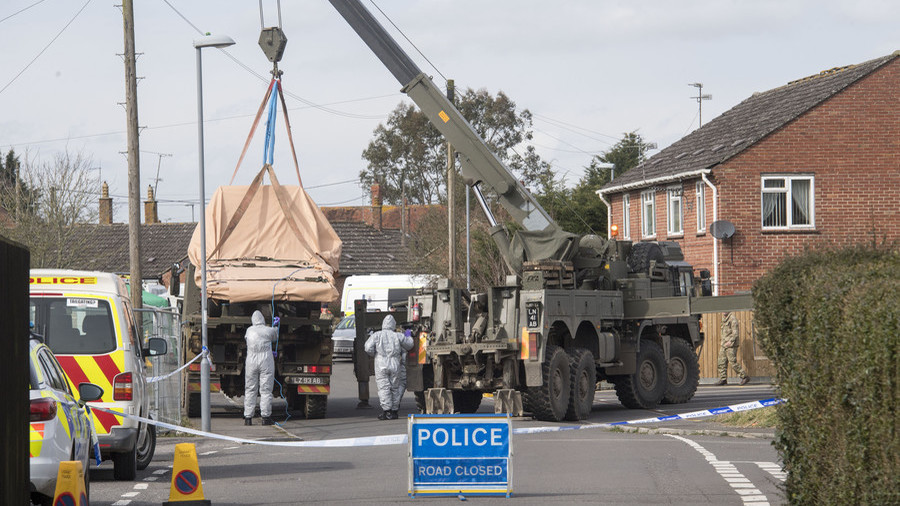 The chemical weapon used to poison ex-Russian double agent Sergei Skripal and his daughter Yulia was delivered "in a liquid form," according to the Department for Environment.
The department said that one primary location was targeted by their attackers – the Skripal's Salisbury home. The London Road cemetery, where the remains of the former Russian spy's wife and son are buried, was not targeted.
The Department for Environment, Food and Rural Affairs (DEFRA) has detailed efforts being made to decontaminate areas of Salisbury where the chemical agent has been found, as well as more details on the poison itself. The clean-up operation is expected to take months.
DEFRA has reported that nine sites in total require cleaning, including ambulance stations, the Skripal home, and various locations across the city center including the Mill Pub and Zizzi restaurant, where the Skripals visited shortly before they were discovered in a catatonic state. Nearly 200 military personnel from the Army and RAF will help with the specialist cleaning, which is expected to take a number of months.
The shopping centre where the father and daughter were found on a bench, Zizzi and the Ashley Wood compound where Sergei's car was taken after the chemical attack have been handed back over by the police investigation.
READ MORE: OPCW-accredited Swiss lab can 'neither confirm nor deny' BZ toxin was used in Skripal poisoning
A police cordon at the Salisbury cemetery was lifted on Tuesday. It was the first space to be reopened to the public after testing showed that it had not been contaminated by the nerve agent.
Responding to the development, the Russian embassy in London rebuked the British government for its continued failure to properly inform Russia about the Skripal case. It also reiterated that Moscow was suspicious about Britain's handling of the investigation and alleged that the decontamination process may be intended to cover up evidence of what the Russian ambassador to the UK believes may have been a false-flag operation by the British intelligence service.
Sergei and Yulia were discovered slumped on a bench at the Maltings shopping centre in Salisbury on March 4, after they were poisoned with A-234 nerve agent, also known as Novichok. The father and daughter were left in a serious, life-threatening condition in the weeks that followed.
Yulia, 33, was discharged from hospital earlier this month. Sergei, 66, is taking longer to recover but is understood to be awake and rapidly improving.
The UK government has pointed the finger at Russia over the Salisbury incident, a claim which Moscow has adamantly denied.
If you like this story, share it with a friend!
You can share this story on social media: