'Completely wrong': Londoners react to UK's airstrikes on Syria (VIDEO)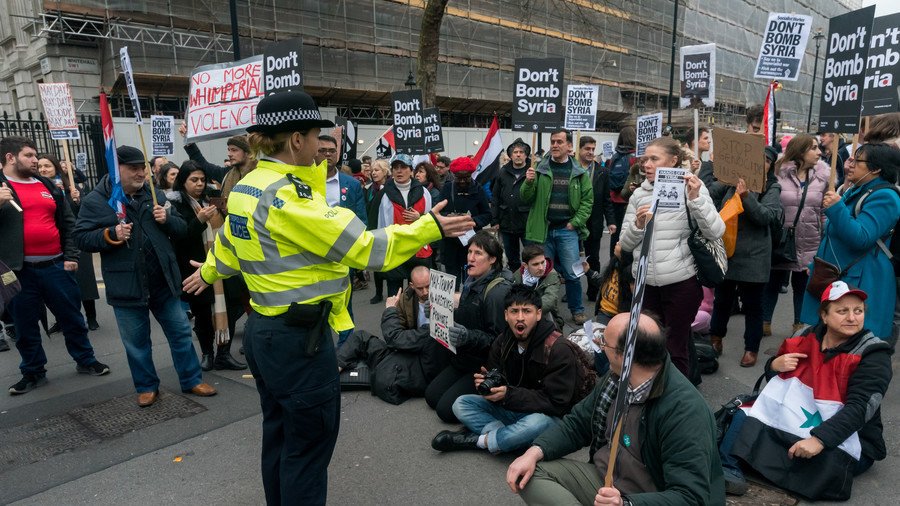 Despite a lack of public support, Theresa May, led by the US, went ahead with airstrikes against the Syrian government. We took the streets of London to find out what the public now thought following the attack.
Some outright condemned the strikes and advocated diplomacy. One man told RT: "I think it's completely wrong, they needed to wait for more evidence." He added: "I don't quite understand why they couldn't just wait a couple of days and just get all the evidence […] and they would at least have a better mandate."
Another passerby said striking Syria could be "understandable," but added: "But unfortunately I am growing less automatically likely to believe what I'm told by the media."
One woman hit out at the prime minister for failing to address MPs. "I don't think the PM should have attacked Syria because she did not consult Parliament and there is no real evidence of who has done it."
While one American living in the UK staunchly opposed the intervention, saying: "Airstrikes and stuff is not something we should be taking so easily."
One contributor noted that while people have reportedly been killed in the alleged gas attack on April 7, "now they [US- led coalition] want to kill another few hundred. It doesn't make any sense. And how many have we killed all together? 400,000 in Syria in the last past six-seven years? How many are left over there?"
Echoing past claims by Labour leader Jeremy Corbyn, one young woman said: "All the Middle East problems kind of stem from us in the first place. We are just making it worse, particularly for the fact that they didn't really get any approval."
There were those who thought May's dramatic intervention alongside France's President Emmanuel Macron and US President Donald Trump was justified. "It was a very difficult decision to have to make because if they left it too late there would've been no point doing it," one public member told RT.
"So if we went in for the reasons that they said, which was to attack the sites where all these chemicals are either made or stored, then every little bit helps for these poor people that are suffering all the time."
Another man told RT: "It was a decision that needed to be made. I don't think the world can allow people to go around using chemical weapons on their own people. I think someone needed to take a stand. I'm not sure that [bombing] was right but something needed to be done."
If you like this story, share it with a friend!
You can share this story on social media: