Government's plan to stem violent crime fails to mention Tory police cuts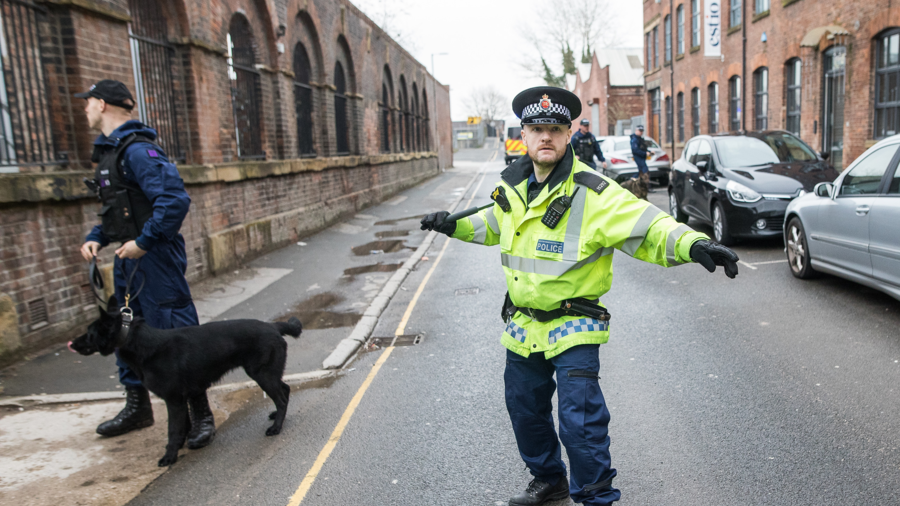 The impact of police cuts was not included anywhere in the government's plan to stem a spike in violent crime. That's despite leaked Home Office research linking the crisis to a lack of police on the streets.
The 115-page Serious Violence Strategy document thoroughly examines the causes of violent crime in the capital, but it falls short of referencing the cut of more than 20,000 police officers in England and Wales since 2010.
It comes after The Guardian published leaked Home Office research suggesting the drop in the number of bobbies policing the streets of London "likely contributed" to the city's rise in knife crime and violence. The death toll in London has overtaken that of New York, as it has already exceeded 55 since the start of the year. Nine were killed last week alone.
When asked about the omission, Home Secretary Amber Rudd merely said she acknowledges the pressure on police, before repeating that she has not seen the research in question.
Rudd has repeatedly rejected suggestions that a lack of resources is behind the London crime epidemic.
"It is not all about police numbers. I think it is a mistake, and we do a disservice to the communities and the families who have seen these tragedies, by just pointing to police numbers," she told BBC Radio 4's Today programme.
Police budgets have been shrinking ever since the Tories gained power in 2010. The number of police officers suffered a 20,000 cut as Home Office statistics show it fell from 143,734 in March 2010 to 123,142 in March 2017.
Rudd is now accused of ignoring research from her own department. Shadow policing minister Louise Haigh said Rudd has "serious questions" to answer over the leak.
Speaking on BBC Radio 4's Today program, Haigh said: "She [Rudd] had in front of her Home Office research that suggested that resources dedicated to serious violence have come under pressure and that it is therefore likely to be a factor in the rise in violent crime."
She added: "Either she saw that research and chose to say the exact opposite, or she commissioned that research and didn't see it. Either she's incompetent, or she chose to mislead the public."
London Mayor Sadiq Khan tweeted:
Met Home Sec @AmberRuddHR this morning to discuss knife crime - which is rising in 39/43 police forces in England & Wales. Some positive ideas on tackling violence, but there needs to be an acceptance that cuts to policing & youth services are a factor. https://t.co/M7HNGbdb6w

— Sadiq Khan (@SadiqKhan) April 9, 2018
But Prime Minister Theresa May's former chief of staff Nick Timothy came to Rudd's defense, tweeting:
I'm happy to be corrected but having seen thousands of Home Office documents over the years this doesn't read like "research" or "data" to me. More like an official's assertion midway through a high level powerpoint document on all factors associated with crime. Overbaked story.

— Nick Timothy (@NickJTimothy) April 9, 2018
Labour MP for Tottenham David Lammy, who has seen four deaths in his own constituency, spearheaded claims that police are "vanishing" from the streets.
"It feels like neighborhood policing has vanished, it's not around you. We haven't seen police in a while and I've been here for quite a while now," Lammy told the BBC on Friday.
17-year-old Tanesha Melbourne-Blake was among those killed in the north London district. She was shot dead on April 2 in the Tottenham area of Chalgrove Road in what is believed to have been a drive-by killing.
If you like this story, share it with a friend!
You can share this story on social media: