Porton Down damage control: UK still 'assesses' Russia poisoned Skripals after lab finds no link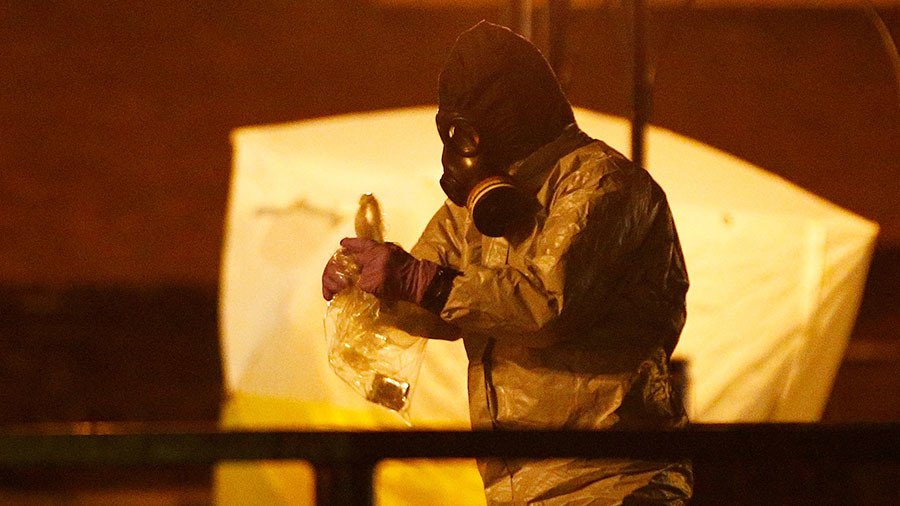 The UK government has issued a statement in the wake of the admission by Porton Down chemical scientists that they can't verify the Skripal attack nerve agent came from Russia. Moscow is still "assessed" to be responsible, though.
London is basing its accusations on allegations that Moscow has been researching ways to deliver nerve agents, "probably for assassination," and on the assumption that it "views former intelligence officers as targets," a UK Foreign Office statement says. "It is our assessment that Russia was responsible for this brazen and reckless act and, as the international community agrees, there is no other plausible explanation."
The damage control statement comes following a Sky News interview by the head of Porton Down, a top-secret army base tasked with finding links between A-234 (which London refers to as the Soviet-engineered nerve agent Novichok) and Moscow. While the scientists said they managed to identify the chemical, they could not point to a precise source.
Still, London maintains it was Russian, because scientific results are "only one part of the intelligence picture."
"As the Prime Minister has set out in a number of statements to the Commons since 12 March, this includes our knowledge that within the last decade, Russia has investigated ways of delivering nerve agents probably for assassination – and as part of this programme has produced and stockpiled small quantities of Novichoks (sic); Russia's record of conducting state-sponsored assassinations; and our assessment that Russia views former intelligence officers as targets," the Foreign Office statement says.
A Salisbury MP was quick to downplay Porton Down's role in the investigation, saying it's not the chemical lab's place to determine how the chemical was delivered.
Thanks to the brilliant scientists at DSTL, Porton Down for contributing so effectively by identifying the nerve agent - how the substance came into contact with the Skripals in Salisbury will be for others to determine.

— John Glen MP (@JohnGlenUK) April 3, 2018
Earlier in March, UK Foreign Secretary Boris Johnson, the author of some of the most loud-mouthed attacks on Moscow over the Skripal poisoning case, claimed he had received confirmation from Porton Down that the A-234 nerve agent had been made in Russia.
Porton Down is a military base and chemical lab some eight kilometers from Salisbury, where former double agent Sergei Skripal and his daughter Yulia were discovered unconscious on a bench in early March. According to the UK authorities, they had been poisoned with a military-grade nerve agent. London has been insisting it's "highly likely" Moscow was behind the poisoning, and has expelled 23 Russian diplomats in retaliation, without waiting for a result of the ongoing investigation and without producing evidence to support its claims.
Moscow has been denying any involvement in the poisoning, and has repeatedly offered its assistance in investigating it, which the UK has flatly rejected, instead demanding that Russia admits guilt.
Like this story? Share it with a friend!
You can share this story on social media: