Largest dinosaur ever left its mark on Isle of Skye, scientists discover monster's massive footprint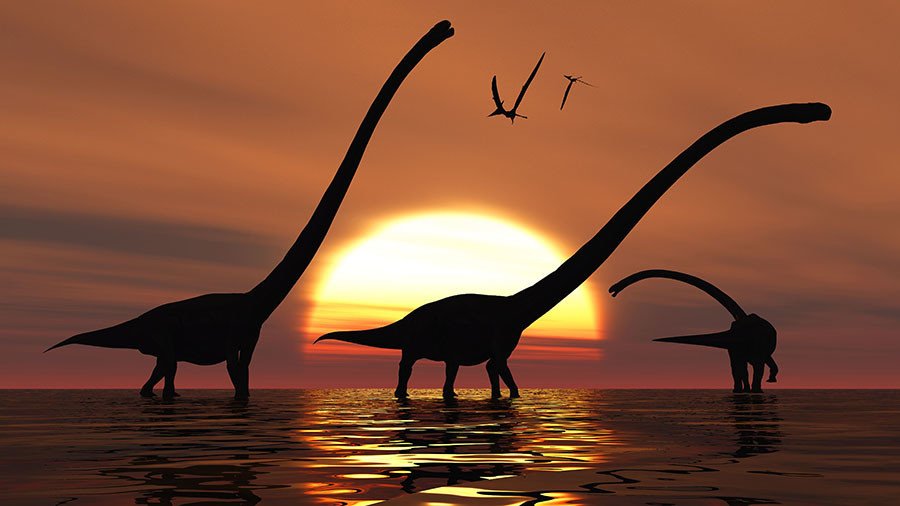 Footprints from the largest dinosaur to have ever existed on Earth have been discovered on Scotland's Isle of Skye.
The fossilized footprints were left by the 170-million-year-old early sauropods, which grew to at least 49ft long and weighed more than 10 tons. Footprints from the 'older cousins' of the Tyrannosaurus rex, the two-meter-tall theropods, were also found in a muddy lagoon on the island.
Because of the scarcity of evidence on the Middle Jurassic period, the findings have been described as "globally important." Dr Steve Brusatte of Edinburgh University said: "It's important because it's a large site for dinosaur tracks, those are pretty hard to find.
"It shows both long-necked and meat-eaters were on the same site at the same time living together, side-by-side," she said, according to The Telegraph. "It captures a moment in time 170 million years ago when they were just hanging out in a lagoon, living on the beach, back when Scotland was much warmer and dinosaurs were beginning their march to global dominance.
"Their long-necked prints are almost car-tire size, whereas the meat-eater ones are about the size of a basketball," added Dr Brusatte.
Researchers from the University of Edinburgh, Staffin Museum, and the Chinese Academy of Sciences measured, photographed and analyzed around 50 footprints in a tidal area at Brothers' Point – Rubha nam Brathairean – a headland on Skye's Trotternish peninsula. Their findings were published in the Scottish Journal of Geology.
The fossils are thought to be the oldest ever found in Scotland. Another set was found in 2015, but they were slightly later and smaller. The oldest dinosaur fossil discovery in the UK is thought to have been of a 200-million-old Tyrannosaurus Rex relative, the Dracoraptor hanigani, found on a Welsh beach in 2016.
If you like this story, share it with a friend!
You can share this story on social media: