From Boris to Rees-Mogg: Do the Tories have their own racism problem?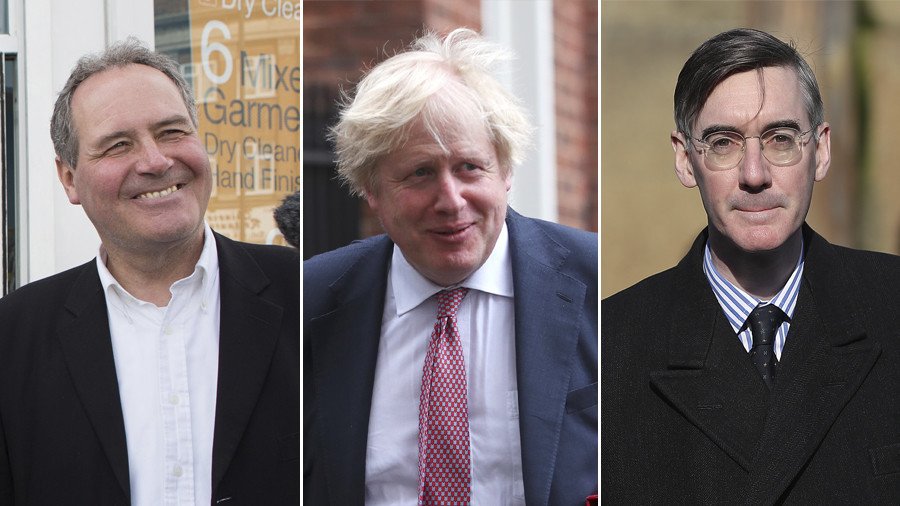 Boris Johnson faces demands to apologize after he took part in a Tory campaign accused of "dog-whistle racism." He is just the latest Tory MP accused of racism, prompting the question: does the party have a racism problem?
Boris Johnson
Gaffe-prone Johnson – who was once described by Prime Minister Theresa May as an "FFS," a "fine foreign secretary" – is being called on to apologize for helping a Tory campaign in Romford Market, East London. The campaign reportedly distributed leaflets claiming a Labour seat would turn the borough into an inner-city area with a "massive population" rise and a "crime wave" arriving from Central London. It also cautioned against London Mayor Sadiq Khan's influence potentially making the area resemble Hackney, Newham, Camden, and Barking rather than "traditional" parts of Essex.
Former Tory minister Nick Boles was among those who criticized the campaign, tweeting: "This leaflet is disgraceful. The individuals responsible should apologise, and withdraw it, or face disciplinary action. We cannot attack Corbyn for indulging antisemitism in Labour and allow messages like this to go unchallenged. @BrandonLewis over to you."
Labour MP David Lammy also hit out at Johnson for participating in the smear campaign.
The Tottenham MP branded the leaflet "one long dog whistle about race."
This isn't the first time Johnson has made headlines over racist comments. In 2002, the Telegraph reported him referring to black people as "piccaninnies" with "watermelon smiles." And as editor of the Spectator, the foreign secretary published articles claiming "blacks have lower IQs" and that Caribbean people were "multiplying like flies."
Johnson isn't alone in facing racism accusations; his right honourable colleagues have allegations of their own.
Jacob Rees-Mogg
Johnson's fellow Tory MP Jacob Rees-Mogg came under fire for dining alongside a far-right activist at a meeting of the Traditional Britain Group. The founder of the group, Gregory Lauder-Frost, has been caught on camera making racist remarks about black and Jewish people.
Lauder-Frost was recorded calling Baroness Doreen Lawrence, a "n*****," while he branded broadcaster Vanessa Feltz a "fat Jewish slag." He reportedly made the comments while speaking to a 'Hope not Hate' researcher at a London pub last year. The anti-racist organization's investigator, Patrik Hermansson, 25, met Lauder-Frost as he went undercover in the UK's far-right.
Rees-Mogg was pictured dining with Lauder-Frost five years ago after accepting an invitation by the Traditional Britain Group.
The MP, who has been tipped as favorite to succeed Prime Minister Theresa May, said he "deeply regrets" dining with him.
Bob Blackman
A third Conservative MP, Bob Blackman, was on Monday accused of endorsing Islamophobia after posting an anti-Muslim article on Facebook. The MP for Harrow East was blamed for "giving Islamophobia a pass," posting an article headlined: Muslim Somali sex gang say raping white British children 'part of their culture.' The article came from Hardcore News USA, infamous for running Islamophobic stories.
Miqdaad Versi, the assistant secretary general of the Muslim Council of Britain, tweeted in response: "Deeply disappointing to see Tory MP Bob Blackman once again endorse Islamophobia."
Blackman, who has other accusations of racism against him, quickly apologized, saying: "I deleted the link as I saw that the headline to the article was phrased inappropriately. I can confirm that I have never visited the website in question and am not part of any group related to it. I sincerely regret any upset caused to the Muslim Council of Britain or the wider community for my error."
Anne-Marie Morris
In July, Conservative MP Anne-Marie Morris was suspended from the party after she was caught using a racist phrase while at the East India Club, the Huffington Post reported.
The MP for Newton Abbot in Devon was recorded telling the event: "Now I'm sure there will be many people who'll challenge that, but my response and my request is look at the detail, it isn't all doom and gloom. Now we get to the real n****r in the woodpile, which is, in two years what happens if there is no deal?"
The MPs are not alone, as the problem seemingly runs throughout the party. Tory Councillor Nick Harrington was also suspended after he tweeted a racist remark in May last year. Upon Ireland supposedly failing to help England qualify for Eurovision, the councillor for the Warwick area of Coventry tweeted: "#Eurovision2017 thanks Ireland.
"You can keep your f'king gypsies! Hard border coming folks!" Harrington is just one of many racist Tory councillors, his colleagues have, respectively, used phrases like "jungle bunnies" to describe the London rioters, "p***s" when talking about their own constituents and "c***k" in reference to a colleague, while another called for the "execution" of travellers.
As the mainstream media focus on Labour for their anti-Semitism problem, the Tories' own issues on racism suggest that rot in Westminster goes far deeper.
If you like this story, share it with a friend!
You can share this story on social media: