Brexit under threat? UKIP deny working with Cambridge Analytica amid explosive whistleblower hearing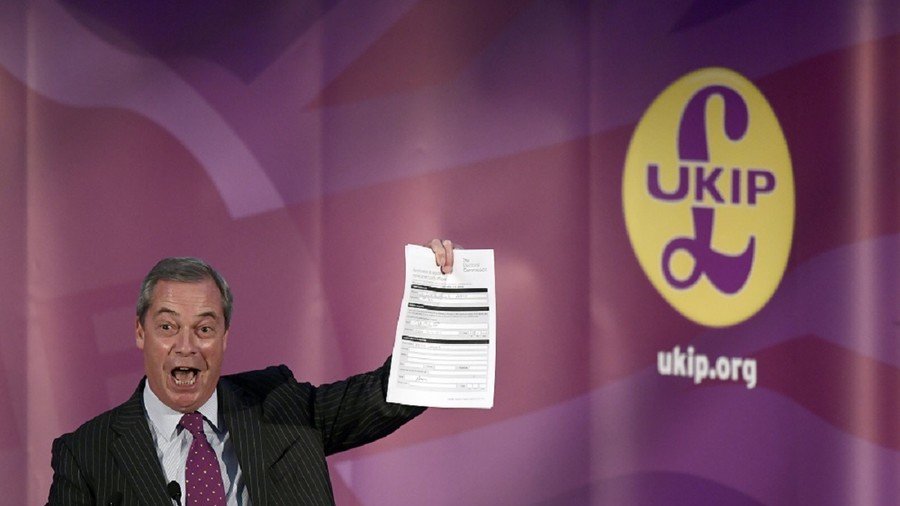 UKIP has denied the party had any working relationship with Cambridge Analytica (CA), refuting the claims of whistleblower Christopher Wylie.
The former employee from the political data firm has thrown jaw-dropping allegations of corruption, law breaking, and vote swaying at the firm he has now left.
Wylie revealed at a DCMS committee in Parliament that he is "absolutely" convinced Brexit campaign groups in the EU referendum worked together – despite UK rules banning finance sharing and campaign collusion. He said he saw evidence that Vote Leave and BeLeave were in partnership with each other and with CA.
When asked if Arron Banks and Nigel Farage's Leave.Eu – a pro-Brexit rival to Vote Leave was involved – he confirmed it. Wylie also said he saw invoices from CA to the UK Independence Party (UKIP), the party then headed by Farage and funded by Banks. The whistleblower also pointedly suggested that MPs investigate Banks further.
A UKIP spokesperson attempted to explain the invoices, telling RT: "They punted for some work – some free work – it's what you do in consultancy. They then spoke to us and we said we can't afford it and it's not useful.
"They cheekily invoiced (Aaron) Banks and Banks said no – and that was the end of it. I think it was a £50,000 [$70,600] invoice.
"It's an interesting way of using the word work – there was never a commercial agreement between us.
"We laughed at what they were promising it was no great value and certainly not for that sort of money.
"That's why UKIP came up."
Wylie, however, has claimed he believes all Brexit campaign groups were working together, despite strict regulations banning them from doing so.
Speaking to MPs in Parliament, Wylie faced questions on the inner workings of Cambridge Analytica and their connections to the Brexit campaign group Vote Leave – which is accused of secretly controlling smaller group BeLeave.
Wylie says BeLeave campaigners, and fellow whistleblowers Shahmir Sanni and Darren Grimes were manipulated and told what to do by the Vote Leave lawyers.
Wylie accused Vote Leave, BeLeave, the DUP, and Veterans for Britain of working together in the EU referendum campaign, convincing him they "cheated" in the referendum.
Dominic Cummings, chairman of Vote Leave, has denied the allegations, branding Wylie a "fantasist-charlatan."
Like this story? Share it with a friend!
You can share this story on social media: