Mass walkout of Spycops inquiry - RT's Bill Dod leads debate with activist & retired top cop (VIDEO)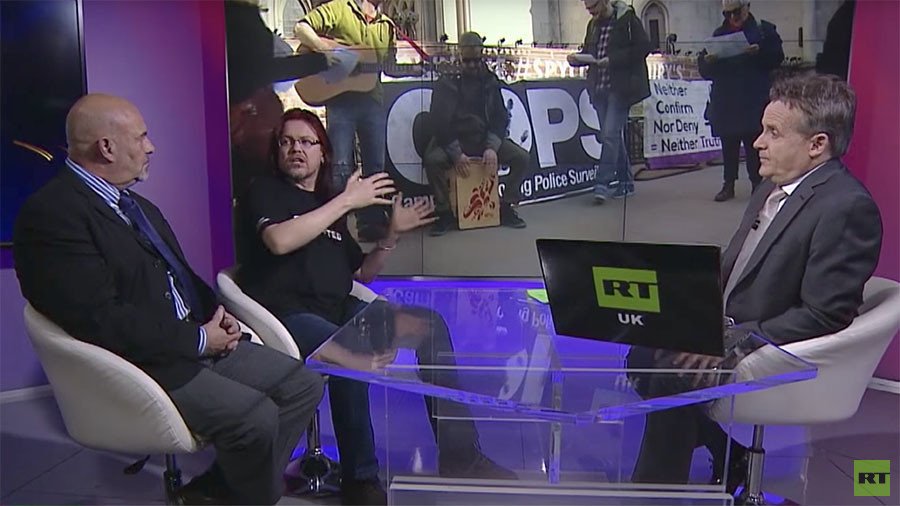 Over 60 people staged a mass walkout of the "spycops" inquiry, calling for the chairman at the helm of the investigation to step down. RT spoke to two men from opposite sides of the debate to see what they want from the inquiry.
Victims have slammed the inquiry's move to grant members of the Special Demonstration Squad (SDS) anonymity. The SDS is the Special Branch unit, which infiltrated political and activist groups between 1968 and 2008. Some undercover cops engaged in sexual relationships with activists, and in at least one case fathered a child under false pretences. Some activists even stole the names of dead children to assume their identities.
Chairman of the inquiry, Sir John Mitting, has faced the ire of victims and campaigners for ruling that the anonymity of some police officers would remain in place. Lawyers have questioned whether this will compromise the investigation and the quality of evidence given by victims.
Phillippa Kaufmann QC, representing the core participants, told the court on Wednesday that: "it is now abundantly clear that we simply cannot participate in this hearing in a meaningful way. Our clients are not prepared actively to participate in a process where their presence is mere window dressing lacking all substance and meaning which would achieve nothing other than to lend the process a legitimacy it does not have."
Kaufmann said that Mitting's reasoning for not releasing the names of certain police officers was "scant and largely uninformative". She also questioned his suitability to oversee the case.
As a result, attendees abandoned the courtroom, chanting "Mitting out" and unfurling a banner outside of the courthouse that read: "Tear down the #spycops inquiry's brick wall of silence".
After the drama at the Royal Courts of Justice had concluded, RT's Bill Dod sat down with Undercover policing inquiry core participant Merrick Cork and retired MET superintendent Simon Turner to debate the issue, and to get to the bottom of what both parties are looking for in the inquiry.
Think your friends would be interested? Share this story!
You can share this story on social media: