UK-backed Libya coastguard threatens 'shoot to kill' unless charity crew hand over women & children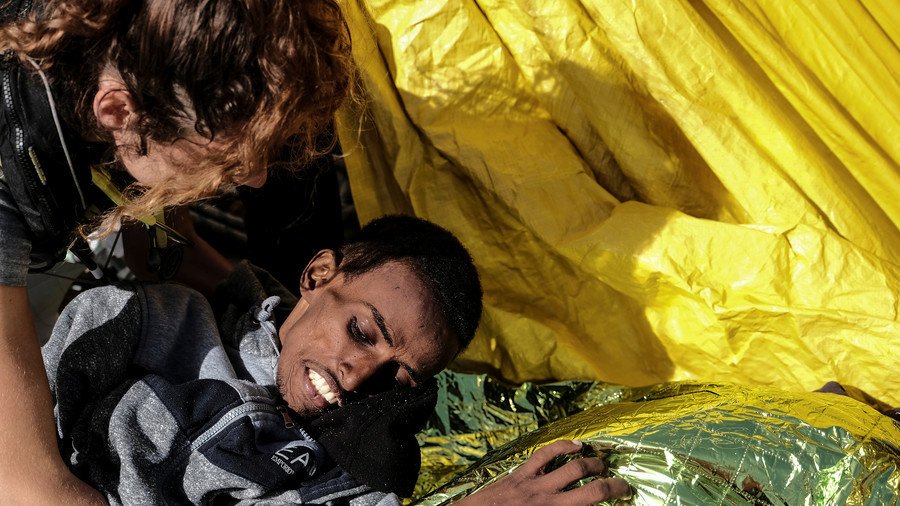 The UK funded Libyan coastguard threatened to kill migrants and shoot those aboard a refugee search and rescue vessel. The coastguard ordered the crew hand over women children or face violence, according to the crew's tweets.
Seven months after Boris Johnson pledged £9 million (US$12.5 million) in taxpayer cash to the Libyans, the coastguard – known as the LCG – has repeatedly abused its power. On Thursday, Spanish NGO Proactiva Open Arms was 73 miles off the coast of Libya when the LCG descended.
The NGO vessel was carrying out a rescue mission, involving more than 100 people who had escaped war-torn Libya. The crew was told over the ship's radio system that if the women and children rescued were not handed over to them, they would be shot.
ALERT NOW! Libyan coastguards 73 miles off Libyan coast threaten European-flag ship to shoot them unless we transfer them the women and children rescued pic.twitter.com/Vyihki417e

— Oscar Camps (@campsoscar) March 15, 2018
The vessel is one of few boats in the designated Search and Rescue (SAR) zone outside Libya. The territorial waters of the North African nation reach 12 miles offshore, as set out by UN rules. Policing can be carried out up to 24 miles.
However, the incident on Thursday afternoon was deep into international waters – 73 miles from the coast. The LCG demands amount to a pushback to an unsafe port which breaks with the 1929 Geneva Convention. Yet Europe, which coordinates rescues through the Maritime Rescue Coordination Centre (MRCC) in Rome, has failed to prevent such breaches of international code.
READ MORE: 'How can you look away?' British lifeguard describes true horror of Mediterranean migrant crisis
So far, the EU has funded the LCG with some €300 million ($370 million) to keep people back on the African continent. This includes cash from the Italians and Britain. The government being backed by the EU does not have full control of the country and many have accused the LCG of working with people smugglers.
There are currently believed to be 700,000 refugees and migrants in Libya. Active slave markets for black people are in operation in the beleaguered nation and female refugees have reported being systematically raped. However, the EU decided to bring in a raft of measures to keep people in Libya until they can be removed via a slow legal system. Only a handful have been brought to Europe safely.
Meanwhile more than 20,000 remain in detention and tens of thousands more are in the hands of smugglers. So far in 2018 more than 400 have died attempting to cross the Mediterranean, including women and small children.
Proactiva Open Arms was eventually able to take the refugees onboard and are currently waiting for Europe to open a port to disembark them.
If you like this story, share it with a friend!
You can share this story on social media: