May dodges Corbyn's Skripal questions, slams Labour leader for not blaming Russia (VIDEOS)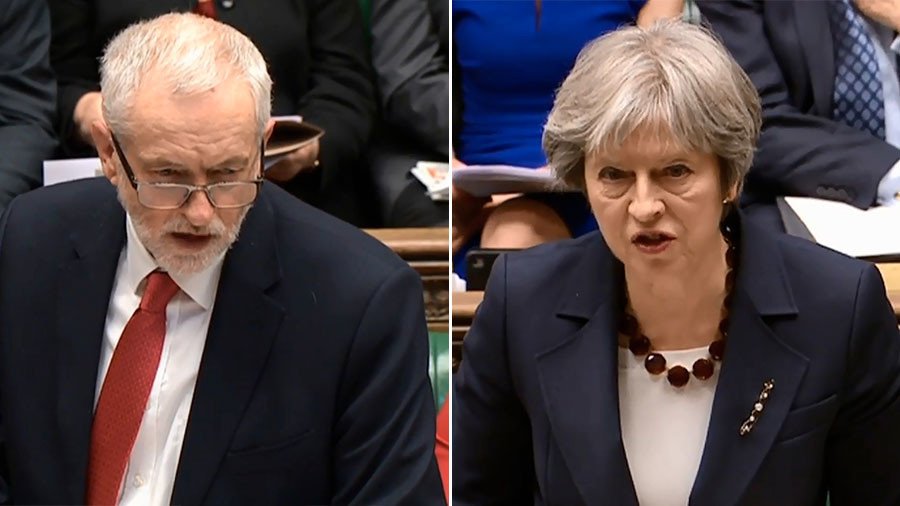 Theresa May refused to answer a series of questions posed by Jeremy Corbyn following her statement in which she labelled Russia as being "culpable" for the attempted murder of Sergei Skripal.
The rival political leaders came head to head in a heated exchange during Wednesday's Prime Minister's Questions. May declared that the Russian state is "culpable" for the poisoning of the Russian former double-agent and his daughter, Yulia, while Corbyn stopped short of outright blaming the Kremlin.
Corbyn said the incident was a "dreadful, appalling act, which we totally condemn." He went on to ask the Tory leader if she had responded to Russia's demand to examine samples of the nerve agent allegedly used against Skripal.
"Has the Prime Minister taken necessary steps under the chemical weapon convention to make a formal request for evidence from Russian government under article 9.2? Has high-resolution trace analysis been run on a sample of the nerve agent that revealed any evidence as to the location of its production or identity of its perpetrators?"
He went on: "And while suspending high-level contacts, does the Prime Minister agree it is essential to maintain a robust dialogue with Russia?" The PM dodged the questions by hitting out at Corbyn for not condemning Russia's "culpability."
Emboldened by MPs who were shouting "shame" at Corbyn over his decision to demand evidence, May didn't answer, responding: "I am only sorry the consensus does not go as far as the right honorable gentleman. He could have taken the opportunity to condemn to culpability of the Russian state."
If you like this story, share it with a friend!
You can share this story on social media: