'Alt-right' Generation Identity to hit UK streets after anti-fascists block 'free speech talk'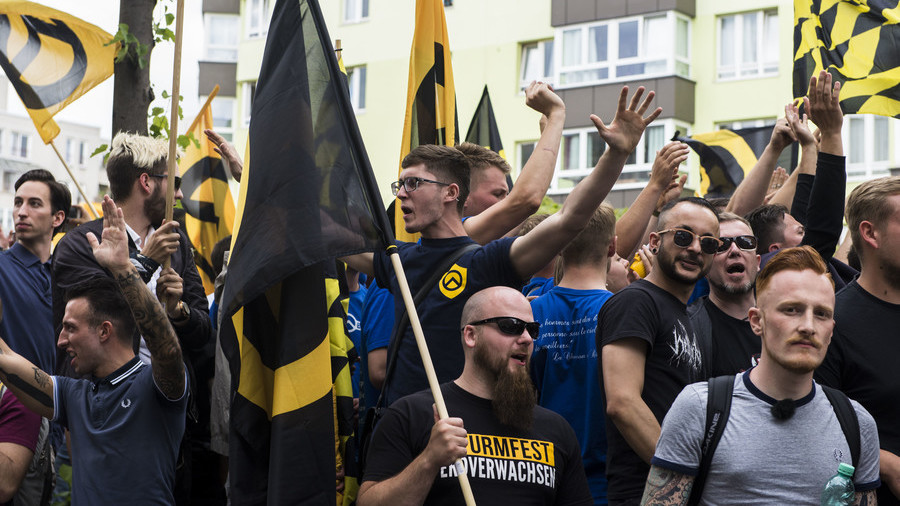 Far-right activists have vowed to hold a public event in London, after places across the UK barred them. Generation Identity representatives said that venues were "threatened" into rejecting their Young Independence Conference.
Co-Leader of Generation Identity Austria, Martin Sellner, announced he will be giving a speech at Hyde Park's Speakers' Corner this weekend. The original event, in which Sellner was due to talk about 'Free Speech, Generation Identity & The Great Replacement', was to be hosted at the Young Independence Conference, for the youth wing of the UK Independence Party (UKIP).
"The venue was forced to cancel the event due to various threats sent to them, this was despite the fact that the venue had been kept a secret to prevent this from happening," a statement said. "He was due to give a similar speech at the YI conference in Sheffield last year, however that too was cancelled under similar circumstances." Sellner himself said that UK left-wingers cannot stop him from speaking.
Generation Identity, seen by some as the European equivalent of America's so-called 'alt-right', has garnered a following across Europe with its anti-Islam, nationalist message propagated through slick social media videos. Some of the clips depict scores of young activists taking part in military-style training camps, while others show members conducting eye-catching stunts.
The group has been met with fierce opposition across the UK and Europe. Various left-wing and anti-racist organizations have successfully lobbied venues to stop events from taking place. One of the groups, Unite Against Fascism (UAF), an anti-racist pressure organization, will now protest Sellner at Speakers' Corner.
Paul Sillett, the national campaigner for UAF, told RT: "Generation Identity and Martin Sellner are obnoxious neo-fascists... UAF activists, together with Stand Up to Racism, were to hold a protest at Milton Keynes, where Sellner was due to speak. Due to such pressure, Sellner called off the meeting."
My speech for the @YIofficial conference was cancelled for the 2nd time, due to security risks caused by left wing threats.But we wont be silencend. On Sunday the 11th I will give my speech on Speakers Corner and I invite everybody who had a ticket for the conference to come! pic.twitter.com/3FRWZLYXXW

— Martin Sellner (@Martin_Sellner) March 6, 2018
Sellner made a video with Brittany Pettibone, a US-based alt-right vlogger. In it, he expressed concern over right-wingers being "silenced" in Britain. He gave examples including threats from "leftist activists such as ANTIFA, who recently shut down a talk being given by YouTuber Sargon of Akkad at the King's College London Libertarian Society."
A statement from Young Independence said: "Unfortunately the free speech conference on 10th March in Milton Keynes with [the] keynote speaker has been cancelled. This is for a number of reasons, but can be mainly attributed to far-left organisations scaring the venue, forcing them to pull out on us only six days before the event due to 'security concerns'."
If you like this story, share it with a friend!