Johnson & Davis are 'the Messi & Ronaldo' of cabinet – Michael Gove mocked for football comparison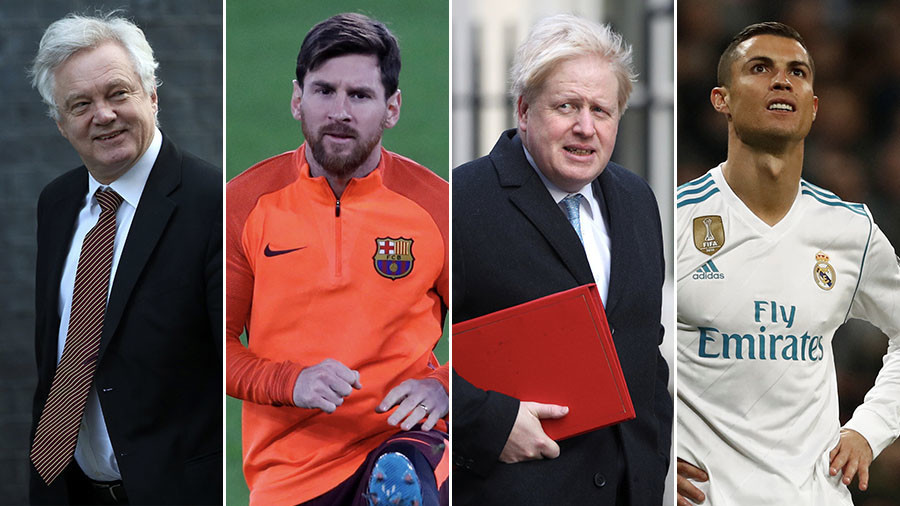 Environment Secretary Michael Gove has been ridiculed on Twitter after comparing fellow cabinet ministers David Davis and Boris Johnson with football stars Lionel Messi and Cristiano Ronaldo.
In an interview with the Huffington Post, the Brexiteer dismissed suggestions he was "annoyed" at not being given a chance to deliver his own Brexit speech, a privilege bestowed upon colleagues Davis and Johnson.
Foreign Secretary Johnson gave his formal speech last week, and on Tuesday Davis set out his blueprint for the UK's withdrawal during a speech to business leaders in Vienna.
Odd one out Gove heaped praise on his fellow Brexiteers from the sidelines, comparing their talent to legendary footballers Messi and Ronaldo.
Asked if he was annoyed he had not been included on the 'Road to Brexit' roster, he said: "Not at all. Why would you want to be on the pitch when you've got two of the best strikers on your team already out there?
"They are the Messi and the Ronaldo of the cabinet, and as for me I'm just a journeyman so I'll carry on doing my job."
The former justice secretary was mocked on social media for comparing Britain's political arena to a football pitch.
One Tweeter bet Gove had, in classic Tory fashion, no clue who Messi and Ronaldo even are.
Michael Gove has no idea who either Ronaldo or Messi are has he.

— Iain Morley (@Tyke2474) February 20, 2018
Another hit back saying:
Both Ronaldo and Messi are giants of the game, and Gove compares them to two top Brexit buffoons who are torpedoing HMS BrItland , and will see her sink very soon. https://t.co/ond1BaSIsf

— Jim Mackie (@MessenMack) February 20, 2018
Another backed the comparison, but justified it on quite a different basis...
Michael Gove has called David Davis and Boris Johnson the 'Ronaldo and Messi' of Brexit.Presumably he means because they're out way ahead of the pack outdoing each other to look more and more ludicrous every week.

— David Stringer / Mad-Max-Brexiteer (@Scififootball) February 20, 2018
While one user mocked the comparison is more accurate than one would think.
He's right. No, he is. Gove is being terrifyingly literal.............Ronaldo and Messi, if asked, probably have as much idea about Brexit as Davis and Johnson.

— Patrick Moore #FBPE (@Prentonpark42) February 20, 2018
If you like this story, share it with a friend!