The Tories have had a crash course in social media… let the gaffes begin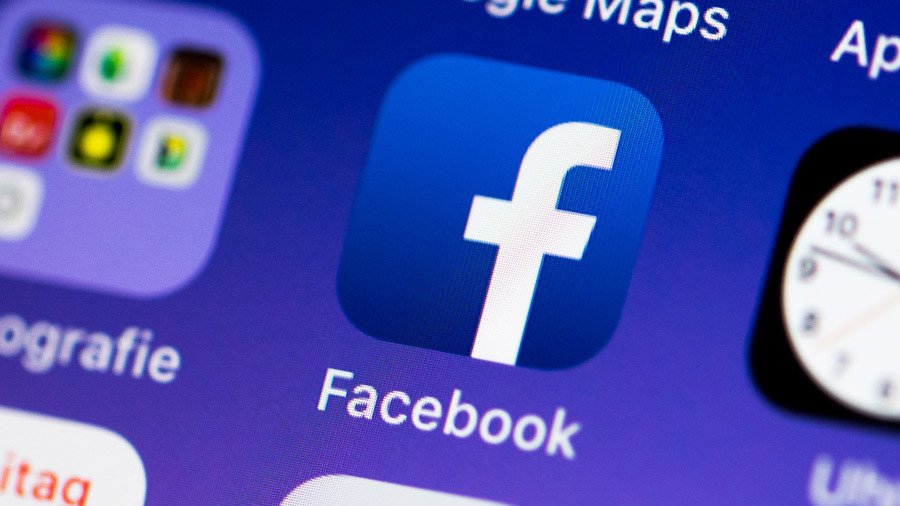 Following their abysmal social media game during the 2017 general election, the venerable Tories have been given a crash course in social media by experts who have swooped into Westminster.
While the not-so-secret classes may have had the best of intentions, it's clear that they may have fallen upon deaf ears or – even worse – released dozens of Conservative MPs onto the world wide web with a distinct lack of social media savvy.
Two weeks ago, new Conservative Deputy Chairman James Cleverly was given the hefty task of taking the fight to Labour online. A Tory source told the Sun that "this needs to be done properly so no harm in a bit of training" – and that's where this government insider was wrong, with the Conservatives uploading gaffe after gaffe to the internet.
Mike Fabricant
According to his Twitter description, Mike Fabricant is the "MP dude for #Lichfield." He voted Brexit, has a wild mop of hair that rivals Boris Johnson or Mr G, and has been having a jolly old time on Instagram.
He even took the time out to upload a happy snap from the Conservatives' social media classes.
Exciting stuff.
Elizabeth Truss
Ah, Liz. Here is the MP for South West Norfolk keeping up with the young folk and not even looking a little bit awkward.
And here's another non-awkward photo, this time with some bagpipes.
This is going well.
Gavin Williamson
Here's the man of the moment – Williamson has been hogging the limelight recently. He's been in the media for his crazy comments about big, old, mean Russia (look out, Putin's going to kill Britons by the"thousands and thousands and thousands") and for his naughty little liaison with a junior staffer.
It's not only his wife and junior colleague that have had their mitts on the defence secretary. Here he is, draped in lemurs, looking positively stoked to be covered in multiple furry animals.
Brandon Lewis
While most of the MP for Great Yarmouth's Instagram feed is made up of boring group photos of people holding random items, Lewis seems to have cottoned on to the golden rule of the internet: people love dogs.
So he has pics of his pets, even busting out #dogsofinstagram to demonstrate just how in the loop he is.
Good for you, Lewis. Good for you.
Amber Rudd
Ahh Amber – so many boring group photos, so little time.
Luckily, she's broken up the crushing monotony with a photo of her and a child; and boy, does she look rapt to be near the shiny youth.

Priti Patel
The former secretary of state for international development actually resigned in November after a bit of a scandal, but she did seem to be alright on social med... – sorry, is she kicking that tortoise?

Theresa May
The prime minister's Instagram page is mostly photos of her meeting the public, and more recently, in China talking trade.
She seems to have also got the memo, though: dogs on Instagram = people like you more.

Plus, she managed an emoji. Have a gold star, Theresa. Well done.
Andrea Leadsom
While some may have wondered what on Earth the Conservative Member of Parliament for South Northamptonshire was doing in this photo, she's at least trying to be innovative.
Look – she's tried to kick off her own hashtag, #nocontextleadsom. Good for you Leadsom, you're winning so far.
Alun Cairns
Most of the secretary of state for Wales' photos are either of him at the pub or catching up with children in his electorate (both activities separately, of course).
Seems like he's not afraid to look like a goose though, donning some pink glasses in the name of breast cancer.
Penny Mordaunt
The Portsmouth North MP just doesn't get it. She barely smiles in photos, which adds to the boredom factor and posts her own quotes.
The worst of it though - instagramming her own tweet. Low point.
Matt Hancock
Ahhh, the pièce de résistance. While most Tory MPs stayed neatly in the confines of Instagram or Twitter, the culture secretary took it one step further: he created his very own app.
He called it 'Matt Hancock MP' – and so far, it has not gone well.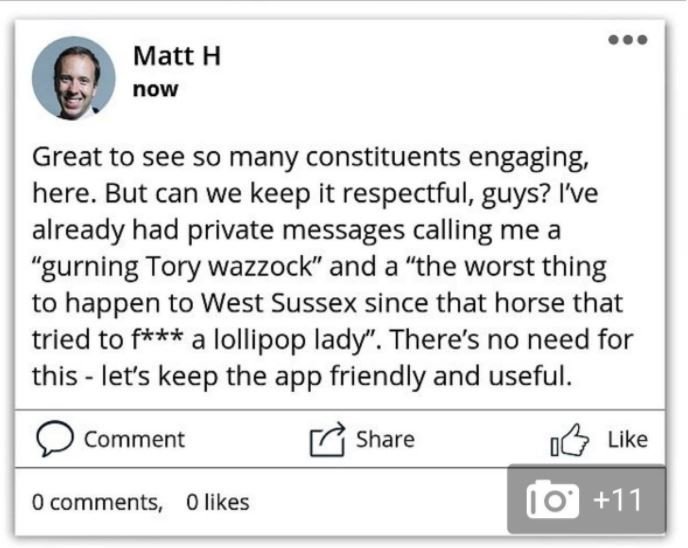 The app (available now – yay) is intended to allow the West Suffolk MP to communicate with members of his constituency, and update national followers with news related to both his cabinet post and party-political messages.
Turns out he's just been copping it from strangers on the internet. Who would have thought it?
Like this story? Share it with a friend!
You can share this story on social media: