Boris Johnson & Jacob Rees-Mogg? They're madmen, says George Galloway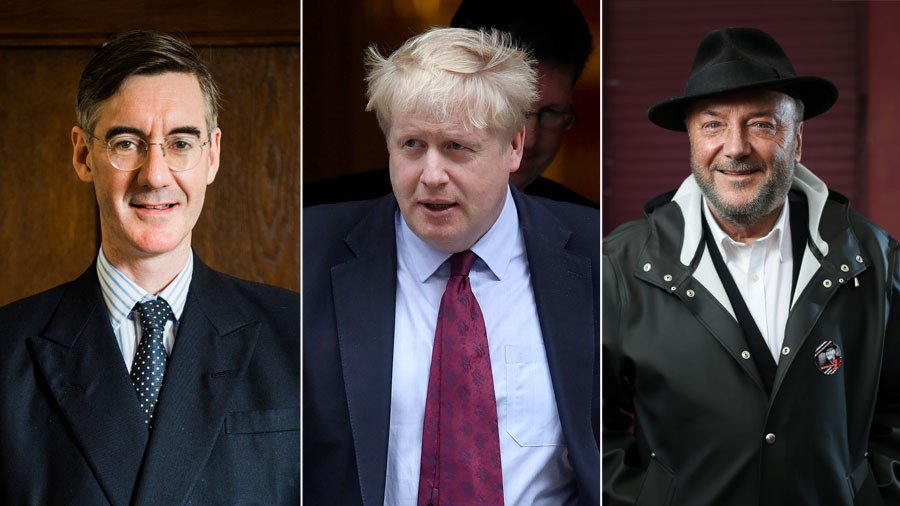 Former Labour MP George Galloway has blasted Foreign Secretary Boris Johnson and rising Tory star Jacob Rees-Mogg as "madmen."
Discussing the recent nuclear threats by North Korea at the 'Imperialism on Trial' event in Derry-Londonderry, Northern Ireland, Galloway questioned why the public is so against Kim Jong-un building a nuclear arsenal to "protect" the nation from the US.
READ MORE: Tory Brexiteers accused of using taxpayer cash to fund anti-EU campaigns
"Is it because he is a madman?" Galloway asked. "Well, the United States is ruled by a madman," the former MP quipped.
"I'm not sure what you describe Theresa May as, not a madman of course, but not strong and stable either. And who comes after her?" he added.
"Boris Johnson? There is madman if ever I saw one," Galloway said scathingly.
Turning to Northeast Somerset MP Rees-Mogg, the political commentator said: "Jacob Rees-Mogg with his double-breasted pyjamas? Fancy his finger on the nuclear button?"
Galloway then pointed to what he says is the paradox of the public criticism of Labour leader Jeremy Corbyn – a longstanding opponent of Britain's Trident nuclear system.
"And Corbyn is treated as if he's the madman because he says he will never press a button that would trigger a nuclear conflagration that would wipe out humanity, indeed all life on this planet.
"He is the madman because he will not contemplate the end of Mother Earth. It's astonishing, isn't it? How everything is inverted."
If you like this story, share it with a friend!
You can share this story on social media: