UK former chief rabbi blasted for helping Vice President Mike Pence pen Israel speech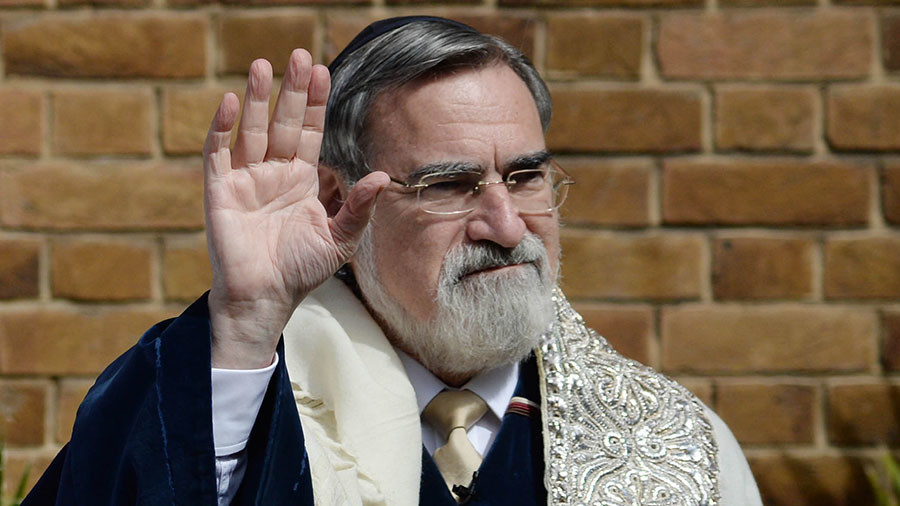 The UK's former chief rabbi has come under fire for assisting US Vice President Mike Pence to pen a crucial speech delivered in Israel earlier this week, due to the Trump administration's perceived links to the far-right.
Lord Jonathan Sacks, who retains the title of emeritus chief rabbi and is an active speaker and writer, considered it a "great tribute to the Jewish people" that Pence had sought his help in coming up with the address he gave in the Knesset, Israel's parliament, on Monday.
"Rabbi Sacks was an instrumental part of crafting the vice president's speech," a White House source with knowledge of the speech-writing process said, according to the Times of Israel.
The source added the rabbi "provided input and editorial suggestions on various drafts throughout the writing process."
The move sparked a wave of criticism on social media, with people saying they "disappointed" to discover Sacks was helping the top aide of Donald Trump, despite the US president having numerous accusations of supporting far-right groups to his name.
During his run to the White House, Trump infamously delayed in condemning former KKK leader David Duke, while upon taking office Trump defended marchers at a rally in which Nazi flags were displayed and one person was killed, stating that there were "very fine people on both sides."
The controversial Republican leader was also fiercely criticized in November after he tweeted Islamophobic videos posted by British far-right party Britain First to his millions of Twitter followers.
Dan Sacker, Lord Sacks' spokesman, confirmed that Sacks and Pence, who has previously come under fire for his evangelical Christian views, met in New York for 90 minutes to discuss the speech. The meeting was "positive and productive," he said.
During the speech, considered the culmination of Pence's two-day trip in Israel, Donald Trump's right hand man announced the US Embassy would be moved from Israel's capital of Tel Aviv to Jerusalem by the "end of next year."
The statement brought up both policy statements and biblical references, stressing the Jewish connection to their claimed homeland of Jerusalem.
Sacks, who was chief rabbi for 22 years until 2013, defended the support he gave to Pence saying it was a "tribute" to his people that such a high-ranking figure had asked for advice.
According to the White House official, Pence sought Sacks collaboration, deeming him a "hugely critical element in crafting the speech."
"Rabbi Sacks has advised prime ministers and presidents for years. The vice-president thought it was critical to have his counsel for a speech of this magnitude," the official said.
Pence, an evangelical Christian, said Americans were "fierce advocates of the Jewish people's aspiration to return to the land of your forefathers to claim your own new birth of freedom in your beloved homeland."
Some evangelical Christians, also known as Christian Zionists, support the Jewish return to Israel as they believe it is a precondition for the second coming of Christ.
Think your friends would be interested? Share this story!
You can share this story on social media: