'Reform or die': Farage blasts UKIP as leader Bolton on verge of going broke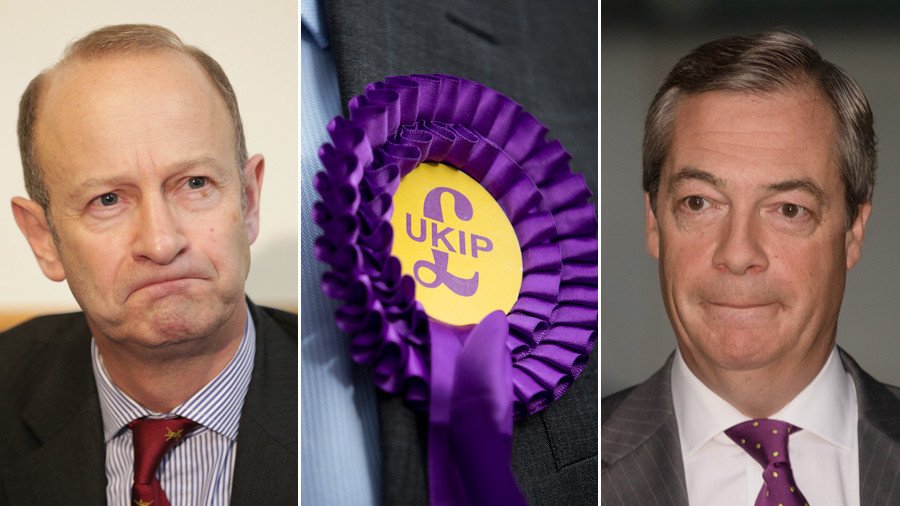 Nigel Farage, the modern master of right-wing politics in the UK, has ordered his former party UKIP to implement reforms as it continues to fall apart after his departure.
The ex-leader of the UK Independence Party (UKIP) quit his role after Britain voted to leave the European Union, following nearly two decades of him campaigning.
Since 2016, the party has had a string of unsuccessful leaders and now faces complete collapse.
Current head honcho Henry Bolton was voted in last year, but within months has dragged the party into a spiral of shame as secrets about his love life spilled onto the pages of the tabloid press.
Bolton, 54, left his wife and two children on Christmas Eve and began dating 25-year-old Jo Marney. It later emerged she sent racist text messages about Prince Harry's fiancée, Meghan Markle, and made references to baby rape.
Furious members told Bolton to step down and the National Executive Committee (NEC) held a vote of no confidence, yet the leader has refused to go.
Farage has watched the party he captained to unheard-of popularity crumble since he left. He is now calling for major reform and the abolition of the NEC, something he demanded during his own tenure.
"Simply, it's reform or die," Farage told Sky News. "If it goes on being run by a group of amateurs, within 18 months it will be worthless.
"[Reform] is exactly what I and all the other previous leaders of the party want. In my last two years of leading that party I was unable to do any of the things I wanted. I was outvoted by a group of volunteers, who frankly had no political experience at all."
Meanwhile, Bolton has claimed he is struggling financially. UKIP has refused to cover his expenses, leaving him to foot the bill for hotel stays while he also funds a home in Folkestone.
Bolton is the first leader of the party who is neither an MEP, independently rich nor in receipt of a pension, and has gone through his savings.
He told Chopper's Brexit Podcast, aired on the Telegraph website, that he has nearly exhausted his funds.
"There are bills to be paid and all my savings have just about gone. There is absolutely nothing convenient in any of this for me," he said.
"I am not doing it for the money, I am not doing it for my ego, I am not doing it for my personal life. I am doing it simply and only because I believe that UKIP's voice must be heard in the discussion about leaving the European Union."
Following a vote of no confidence 14-1, the NEC decided it would not pass funding on to Bolton.
In a further embarrassing blow to the UKIP chief, Facebook spats erupted and members resigned from top posts on Twitter.
UKIP's finances are also being depleted, with the party losing "£20,000 to £30,000 a month [US$28,000 to US$42,000]," it is claimed.
Bolton, however, has vowed to hang on. Writing for the Telegraph on Wednesday, he said: "I believe that, despite the distractions of the past few weeks, I am the person best placed to take the party forward, and to lead the party into a series of enormously important events over the next year."
If you like this story, share it with a friend!
You can share this story on social media: