Disabled sex offender snared by pedophile hunters spared jail (VIDEO)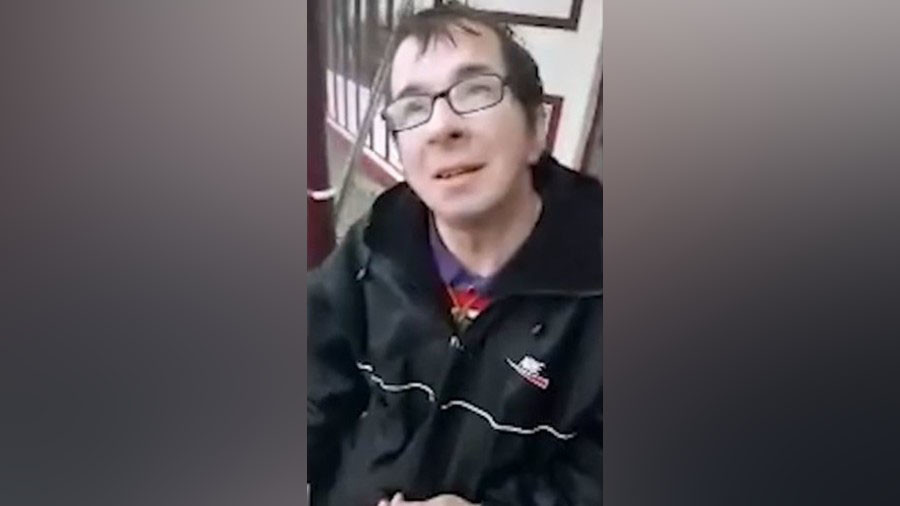 A convicted sex offender has escaped jail despite being caught by 'pedophile hunters' intending to meet who he thought was a 13-year-old girl for a "cuddle." The judge labelled the disabled man a "victim."
Mark Presley, 49, intended to meet the teen at Blackpool pier when he was confronted by anti-pedophile vigilantes 'The Innocence Keepers' in October, last year. The group had been posing as the 13-year-old "Samantha" on Facebook and had asked Presley to carry a stick of rock so he could be identified on the pier.
The group had also pretended to be a number of other underage children on social media who which Presley was also interacting with, including another fake 13-year-old girl named "Katie".
Upon being confronted by The Innocence Keepers, Presley "realized he had been stung [and he] he zipped down his jacket to flash his disability card," the group said.
Judge Andrew Woolman said there were "no real victims" in the case. He added that Presley had suffered bullying which had made him "a victim himself," according to the Daily Mail.
Woolman added that Presley "is desperate for any company" and "is a vulnerable and pathetic individual and is clearly very distressed.
"But there were no real children in this case – both the Facebook profiles were created by the Innocence Group who seek to catch sexual offenders by creating such profiles.
"It's suggested he's not attracted to young girls but just wants their company. I'm not entirely convinced but if he did meet a real girl no sexual activity would have taken place because of the defendant's personality," the judge added.
"These are attempted offences and not actual offences. To say he's a pathetic figure is an understatement."
Prosecutor Emma Kehoe said Presley had persisted with coaxing one of the 'girls' into talking about her sex life, despite the fake teen's insistence that she was "too young" and "only 13."
"Beginning with a conversation about her life and what she was interested in it moved to boys and whether she had a boyfriend," Kehoe said. "She told the defendant she was too young but he told her he found her attractive and he would like to hold her.
"Katie reminded the defendant that she was at school and only 13 years of age but he ignored the facts and suggested they met in Blackpool.
"At the same time the defendant was talking to Katie he was also in exchange with another profile called Samantha, set up by the group again, the profile indicated the girl was 13 and again the chat between the defendant and that profile was almost identical.
"It all culminated in there being an arrangement with the defendant meeting Samantha because he found her attractive."
The court heard Presley had previously been convicted of sex offences in 1990.
The disabled man received a probation order rather than a prison sentence.
You can share this story on social media: