'Tank-topped bumboys' and 'hot totty' – BoJo's sexist and homophobic journalism unearthed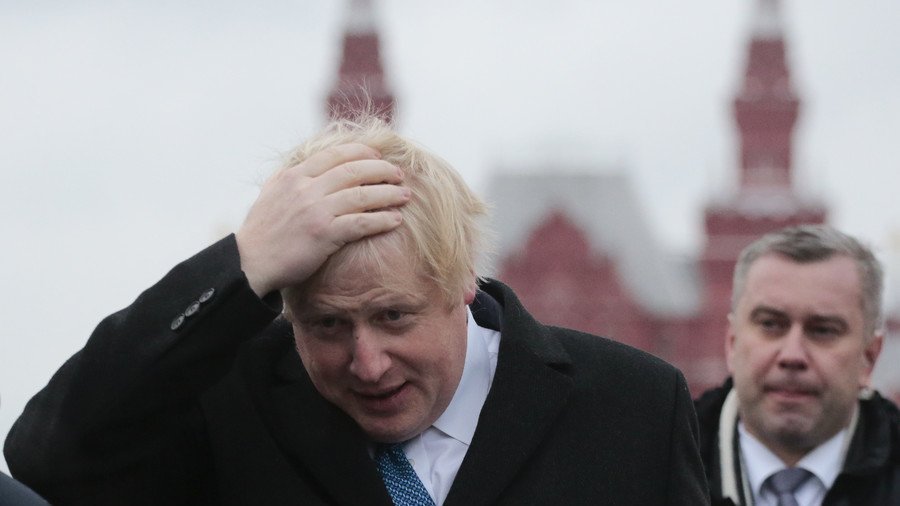 Sexist and homophobic articles from Boris Johnson's journalistic days have resurfaced, causing embarrassment to the foreign secretary only days after he defended Toby Young against similar accusations.
Johnson's questionable body of work was unearthed by Business Insider UK reporters, who cited phrases including 'hot totty' and 'tank-topped bumboys', raising questions as to his suitability for a ministerial role.
The news comes just days after Johnson jumped to the defense of his former colleague Toby Young, who was recently appointed as a member of the Tory Government's new university regulation board, the Office for Students.
Young's appointment to the universities role has drawn ire, with numerous unsavory comments made by the ex-journalist coming to light about the breasts of MPs and TV personalities, the appearance of working class students at Oxford and disabled access to public buildings.
The former journalist has also written about the time he ordered a strip-a-gram to surprise a male coworker on his birthday, which coincided with his office's Take Your Daughter to Work Day.
In 2009 he tweeted repeatedly about television host Padma Lakshmi's breasts, and responded to a user that in a photoshoot for US reality show Top Chef, in which the two appeared together, he had his "d**k up her a**e".
Despite an overwhelming cache of inappropriate columns and comments, Johnson took to social media on Tuesday to defend Young. The foreign secretary – a former editor of the Spectator magazine, where Mr Young has been a frequent contributor – said he "will bring independence, rigour and caustic wit" to the role, and is the "ideal man for job".
As a result Boris landed himself in the firing line, with journalists combing through archives, mostly unavailable online, to dig up a veritable goldmine of his inappropriate musings.
While a journalist for the Telegraph in 1996, Johnson went to a Labour conference, taking the opportunity to review the quality of "the hot totty" in attendance.
"The unanimous opinion is that what has been called the 'Tottymeter' reading is higher than at any Labour Party conference in living memory," Johnson said.
"Time and again the 'Tottymeter' has gone off as a young woman delegate mounts the rostrum."
Johnson also concluded that the real reason women were turning to Labour was due to their natural "fickleness."
"The real reason why Blackpool is buzzing with glamorous women is surely that they scent victory," he wrote. "It is not the great smell of Brut that makes John Prescott attractive. It is the whiff of power. With the fickleness of their sex, they are following the polls."
In a piece for the Spectator which marked his exit as editor, Johnson was generous with advice to the man about to step into his shoes.
"Once the fire is going well, you may find your eyes drifting to the lovely striped chesterfield across the room. Is it the right size, you wonder, for a snooze…?" Johnson wrote in the column.
"You come round in a panic, to find a lustrous pair of black eyes staring down at you. Relax. It's only Kimberly [Quinn, who was then the Spectator's publisher] with some helpful suggestions for boosting circulation."
BoJo's advice to deal with Quinn was this: "Just pat her on the bottom and send her on her way."
As Johnson's biographer, Sonia Purnell did not hold back on her former colleague's penchant for casual sexism in his compositions.
"In his writing women were portrayed as rather feeble 'blubbing blondes' or 'collapsing with emotion...'" she wrote.
Johnson was also disparaging of homosexuality during his time as a journalist.
In another piece for the Spectator Johnson took aim at what he said was "Labour's appalling agenda, encouraging the teaching of homosexuality in schools, and all the rest of it."
In his book 'Friends, Voters, Countrymen', Johnson compared gay marriage with bestiality. He wrote that "If gay marriage was OK – and I was uncertain on the issue – then I saw no reason in principle why a union should not be consecrated between three men, as well as two men, or indeed three men and a dog."
Johnson wrote in a 1998 column for the Telegraph that the announcement of then-Labour Minister without Portfolio Peter Mandelson's resignation would lead to tears from the "tank-topped bumboys" in the Ministry of Sound nightclub, and "the soft-lit Soho drinking clubs frequented by Mandy and his pals."
Boris' relish for commenting on women's bodies didn't cease when he left the media for politics, telling voters in 2005 that "voting Tory will cause your wife to have bigger breasts."
Despite becoming Mayor of London 2008, Johnson continued his antics, commenting on the "semi-naked women playing beach volleyball... glistening like wet otters," when the city hosted the 2012 Olympic Games.
The contents of the unearthed comments have been criticized by Labour's shadow Secretary of state for women and equalities Dawn Butler.
The MP told Business Insider that the foreign secretary's track record made him "unfit" for his job.
"Boris Johnson's track record and his defence of Toby Young, whose misogynistic and homophobic views he published as editor of the Spectator magazine, surely make him unfit to be the UK's most senior diplomat," she said.
You can share this story on social media: