Doctor apologizes for 'Third World conditions' in UK hospitals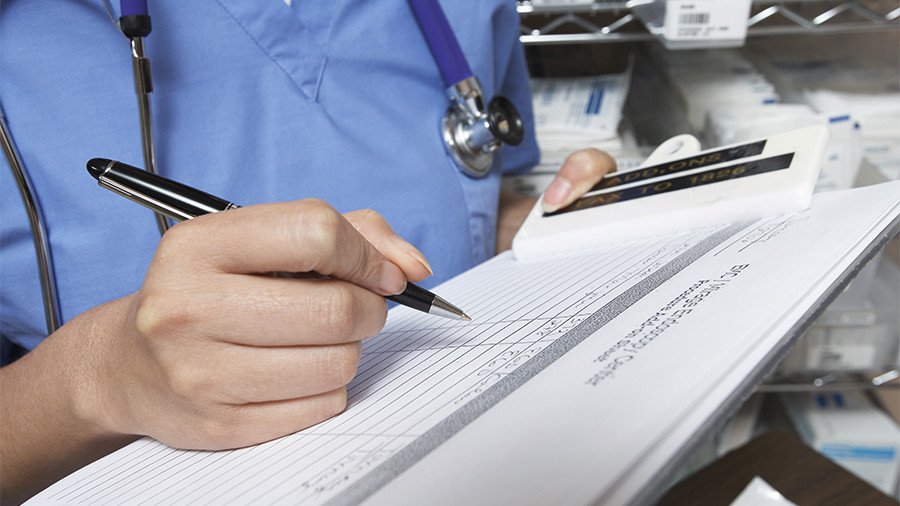 A consultant doctor has likened the state of the National Health Service (NHS) to 'Third World conditions.' Dr Richard Fawcett took to social media to apologize for the current severe overcrowding on emergency wards.
At least 21 NHS trusts issued social media alerts on New Year's Day urging the public to stay away from Accident and Emergency (A&E). Patients were urged to steer clear of critical care services, and to come to hospital only with life-threatening conditions.
In an unprecedented move on Tuesday, NHS medical director Sir Bruce Keogh ordered the cancellation of all non-urgent surgery until at least February. It will see up to 50,000 routine operations axed.
Hospital bosses have warned that the NHS is facing the worst winter crisis in 30 years, as some patients experience 12-hour waits thanks to a spike in winter 'flu.
NHS Trusts have also been ordered to abandon a standard personal safety rule that usually sees male and female patients housed on separate wards.
Some ambulance services resorted to pleading with relatives of the infirm to transport them to hospital themselves, in order to ease the demand placed upon paramedics.
Dr Fawcett went on Twitter to apologize after the NHS had a Tuesday from hell. The A&E consultant called the overcrowding at his place of work, the Royal Stoke University Hospital, heartbreaking.
"As an A&E consultant... I personally apologize to the people of Stoke for the Third World conditions of the department due to overcrowding," he said. "It breaks my heart to see so many frail and elderly patients on the corridor for hours and hours."
One patient took to social media to air his grievances, claiming he spent an "undignified" 18 hours on a trolley waiting for a hospital bed.
Dr Fawcett isn't the only one left stunned by the severe hospital bed shortage. Dr Adrian Boyle of The Royal College of Emergency Medicine said the situation could lead to "avoidable deaths" and that "everybody is struggling at the moment."
According to Dr Nick Scriven from the Society for Acute Medicine, the problem "is as bad as I've ever known."
The chief executive of Mid Cheshire Hospitals, Tracy Bullock, echoed Dr Scriven, tweeting that she had "never seen anything like this." Chief executive of Warrington and Halton Hospitals Mel Pickup said the overcrowding and pressures currently faced by hospital staff were the worst in 30 years.
The mass winter shortage comes only months after the junior doctors strike, with medics warning that A&E departments would struggle under additional pressure.
As disaster strikes the health system, shadow health minister Justin Madders has accused Health Secretary Jeremy Hunt of 'doing a Grayling' – referencing Transport minister Chris Grayling, for being completely unavailable for interview on the day his portfolio comes under extreme national scrutiny.
"Patients and staff deserve better than a Health Secretary doing a 'Grayling,' going to ground and refusing to explain the appalling downturn in standards of care this winter," Madders told the Manchester Evening News.
"Instead of running scared, Jeremy Hunt must answer for his party's sustained underfunding of our NHS which has already caused such misery right across the country. After five years in the job, he should be taking responsibility, not fleeing the scene."
Health Secretary Jeremy Hunt has since spoken out about the severe NHS shortages, apologizing for the mass cancellations of non-urgent operations across the UK.
@Jeremy_Hunt apologises for "unacceptable" wait for for some patients who are in pain due to delays and #NHScrisis. Unacceptable by his own admission. He is failing. Resign. For the sake of the #NHS and to save lives, resign.

— Devil's Finger (@Devils_Finger) January 3, 2018
If you're waiting hours on a trolley in A&E why not use the time to read about how we're creating a better NHS. #NHSCrisis

— Theresa Maybe (@Theresa__Maybe) January 3, 2018
"There are real pressures, no question about it," he said. "This is the busiest week of the year for the NHS. What is different this year compared to last year is that last year we had a lot of operations cancelled at the last minute, a lot of people were called up the day before their operation and told, 'I'm sorry, it can't go ahead.'"
"Although if you are someone whose operation has been delayed I don't belittle that for one moment and indeed I apologize to everyone who that has happened to."
Hunt also thanked NHS staff for their "heroic" effort for working "beyond the call of duty."
NHS cries 'we need more money' they get more money and NHS doesn't improve. So they repeat it again and again. It is a broken model designed for a post war country with small population. Massive overhaul needed, not just begging for money. #NHSCrisis

— Tom (@tommog) January 3, 2018
Prime Minister Theresa May has rejected claims the NHS is in crisis, telling the media the state health service is better prepared for the winter illness spike "more than ever before."
The UK PM told Sky News the Conservative government has put "extra funding" into the NHS to support the health system.
"The NHS has been better prepared for this winter than ever before, we have put extra funding in," she said. "There are more beds available across the system, we've reduced the number of delayed discharges of elderly people who would otherwise have been in NHS beds rather than in social care.
"But I recognize for those people that have had their operations postponed this is disappointing, it's frustrating. We will ensure that those operations are put back as soon as possible and once again I say that NHS staff are doing a fantastic job."
You can share this story on social media: