'Ferocious' fire destroys 1,400 vehicles in Liverpool multi-story car park (VIDEOS, PHOTOS)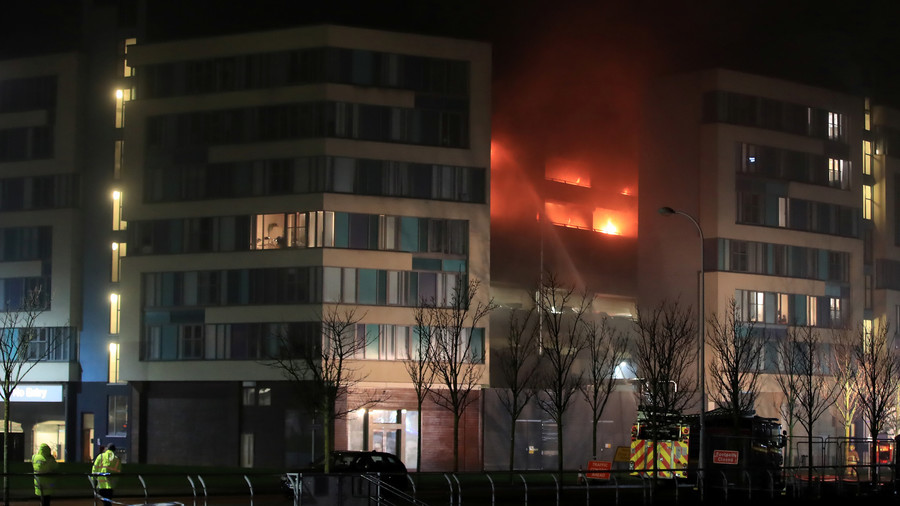 A devastating fire has destroyed around 1,400 vehicles in a multi-story car park next to Liverpool's Echo Arena.
Hundreds of people were forced to abandon their vehicles and were stranded in the English city overnight after the fire broke out in an SUV and quickly engulfed seven levels of the Kings Dock car park.
READ MORE: Huge fireball over UK marks dramatic end to 2017 (VIDEOS)
The multi-story garage is next to the arena, which was hosting the Liverpool International Horse Show when the blaze broke out. Horses were evacuated from the burning building and the show's evening session was canceled. Police said that all vehicles in the 1,600-capacity garage were destroyed.
"Initial investigations indicate that an accidental fire within a vehicle caused other cars to ignite. We believe that all vehicles parked in the car park have been destroyed and advise owners to contact their insurance companies," Merseyside police said in a statement to the media.
The force added that no people or animals had been seriously injured. Liverpool city council set up temporary accommodation for people who were unable to travel home after their car was destroyed.
Videos and photos taken at the scene show several levels of the car-park engulfed in flames, while numerous witnesses reported hearing multiple explosions from the burning vehicles.
Eyewitness Sue Wright, who lost her vehicle in the fire, said she saw the Land Rover that is believed to have started the blaze.
"The flames were just shooting out of the engine and coming past the tyres," she said to the BBC. "It looked like a ball of fire on the front of the car and it was producing a lot of smoke. We just left everything in the car, handbags, telephone, cash, and just went.
"It was all insignificant as long as everyone was OK and we could get the horses out. I saw one car on fire but it was clear it was ferocious and spreading."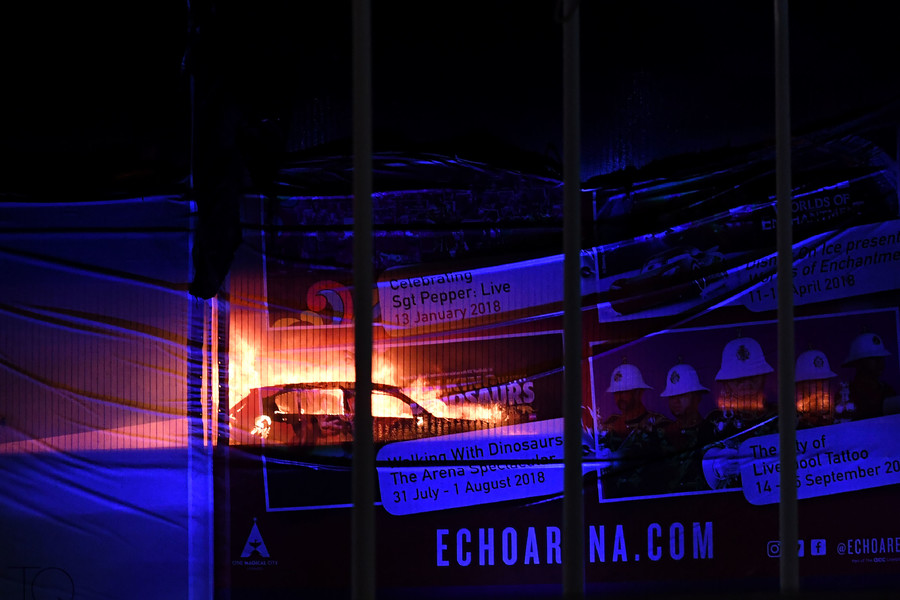 The Mayor of Liverpool, Joe Anderson, tweeted that not enough fire engines responded to the incident because of cutbacks.
Lorna Hughes, a reporter with the Liverpool Echo, shared videos showing the charred remains of the building in the aftermath of the inferno.
Sunday's evening session was the final event in the horse show. The organizers said they had decided to cancel the show with "considerable regret."
"My thoughts are also with those who have lost their vehicles and possessions as a result of the fire. All people and horses are safe and secure, and I thank spectators, riders and support teams for their understanding and co-operation during what was a difficult situation," the show's president, Nina Barbour, said on Facebook.