Will Theresa May make it to Christmas 2018? 5 things that could sink her govt in next 12 months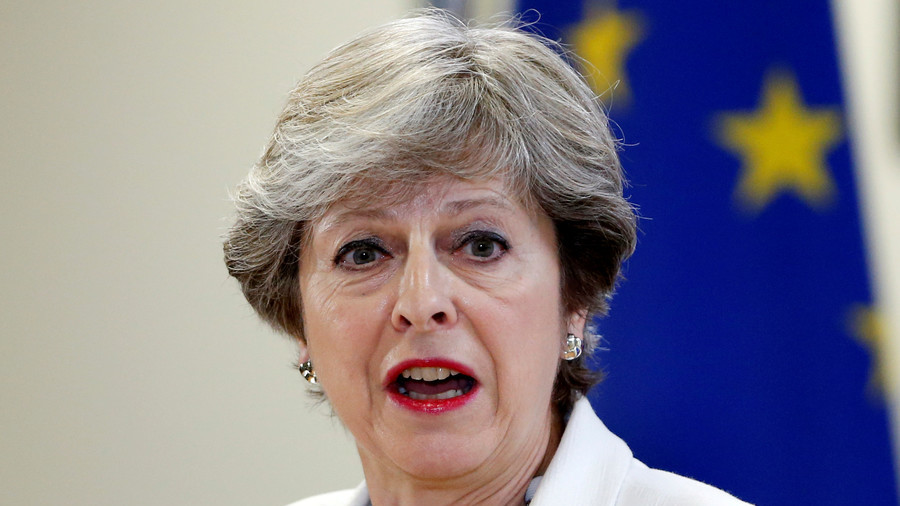 If Theresa May needed to rest anything over the festive period, it was those perfectly-manicured fingernails she's been using to cling onto power. Say what you like about the Prime Minister – she's hung on against the odds.
Yet the ghosts of 2017 will haunt May into the New Year, weighing down on Downing Street as the PM attempts to balance Brexit, Boris Johnson and a battering at the polls. Surely it can't get any worse, she must be telling herself.
What could finally sink T-May in 2018?
1. Round two: May vs. Brussels/backbenchers/backstabbers/bankers
Britain is a divided nation. Heading into 2018, May has a gigantic job on her hands to bat away Brussels' demands, keep the Remainers at bay, please the Brexiteers... and keep her job.
The PM might need to grow a few extra limbs to strangle political infighting in her cabinet while avoiding a battering from the bloc as Britain talks through its EU exit.
If she is not careful, the pound could nosedive again, driving up costs and damaging the economy. EU nations like France and Germany are already trying to poach big banks and steal London's crown as the financial heart of Europe.
After the euro/pound exchange rate leveled out, British holidaymakers (and Brexit voters?!) were furious. If sterling is overtaken it could almost spark a vote of no confidence.
Labour Party leader Jeremy Corbyn has already been described as a prime minister in waiting; perhaps another snap election could see the red flag flying over Number 10.
2. The Trump card? Inviting the Donald for tea might be a bad idea...
An early event in May's 2018 diary could cause huge problems: Theresa hosts a 'special friend' for tea.
Protests have already been scheduled for February when POTUS Trump makes his long-delayed visit to the UK. When details (and a solid date) of the President's visit are announced, thousands are expected to take to the streets in protest.
May's handling of the visit and the mass protests could have real consequences for her future. Supporting Trump and cracking down on protesters will likely enrage the nation – as well as her own MPs calling for the visit to be scrapped.
But May needs Trump on side. The so-called 'special relationship' has already been rocked after Trump shared Britain First's Islamophobic tweets and refused to intervene in a trade dispute that could cost thousands of UK jobs.
In January 2017 they were photographed prancing round the White House hand in hand, but Trump's social media use has upset many Britons, and a repeat of the UK/US love-in will not be good for May.
Inviting sharks for dinner is bad practice, Theresa, and rivals are lining up along Downing Street to pick the bones of a Conservative carcass. Perhaps it's better not to make it so easy for them.
3. Boris Johnson
May could face her biggest challenge from her foreign secretary frenemy Boris Johnson. He may have been stabbed in the back by Michael Gove during the leadership race in 2016, but BoJo makes little secret of the fact he's biding his time for another shot at the top job. There's no satisfying the blond bombshell's hunger for power.
This year a disgruntled Boris revealed his very own Brexit blueprint in the Daily Telegraph, as Brexit secretary David Davis floundered and negotiations looked ready to collapse.
The foreign secretary can smell the rot and looks ready to strike if his dear leader turns her back.
With local elections approaching, May could see a Brexit voting backlash from disgruntled Remainers who turn to Labour in their hour of need.
A landslide for Labour at the local level could be the final straw that breaks the Tory rebels' patience, imbuing them with the impetus to give May the heave-ho.
4. Return of the May-bot
She doesn't have the smarm of Trump, the cunning of Putin of the charm of Trudeau – that's for sure. We've established here in Britain that our leader is pretty awkward.
In fact, Prime Minister's Questions is often watched with one eye shut and a collective grimace when the PM attempts a joke that lands nowhere near the opposition – several streets away, actually.
This year has had us cringing for days, and we can't take much more.
In the immediate aftermath of the Grenfell Tower fire – when every celebrity from A- to Z-list, Her Majesty the Queen and of course man o'the people Jeremy Corbyn all managed to speak to survivors – Theresa May was nowhere to be seen.
Terror attacks in London and Manchester have also seen the leadership questioned, especially after a jihadi wannabe (Khalid Masood) was able to break into Parliament and stab PC Keith Palmer to death.
Another misjudged handling of a national tragedy from the Maybot might just finish her off faster than you can say snap election.
5. Defense of the realm?
Here's an example. Three decades after its failed conquest of the Falklands, a British overseas territory, what if Argentina fancied another crack at what it has always called the Islas Malvinas? Theresa May has vowed to protect the interests of those who live there. Problem solved, no?
Not quite. Britain has an enormous hole in its defense budget – a £30 billion-shaped hole to be precise – and a defense secretary nicknamed 'spiderman' who knows more about crockery than conflict.
Former chief whip and businessman Gavin Williamson has talked a tough game in the last two months in office. However, having the equipment to back it up is another thing entirely.
Backbench MPs have already threatened a rebellion over the sweeping cuts which are expected to hit the army, navy and air force in the coming decade.
Warships HMS 'Bulwark' and 'Albion', as well as about 1,000 Royal Marines could be axed.
The move would be a huge dent in Britain's amphibious capability. A humiliating failure to protect British interests would sink May's fragile leadership for sure.
And let's not even get started on those pesky Russians!
Good luck for 2018, Theresa. You'll need it.
You can share this story on social media: