We will retaliate… despite no evidence of 'successful' Russian meddling, says Boris Johnson (VIDEO)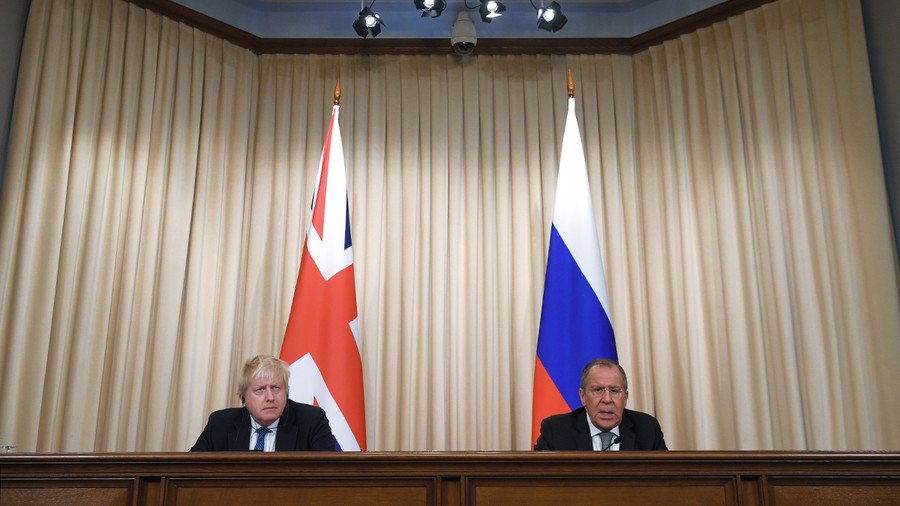 Boris Johnson says Britain will retaliate against any Russian cyberattack. This is despite admitting during a joint news conference with Sergei Lavrov that there is no evidence of Russia "successfully" interfering in UK affairs.
During the news conference, Johnson, who is the first UK foreign secretary to visit Russia in five years, responded to claims about the Kremlin attempting to influence the outcome of UK votes. It sparked some back-and-forth between the two foreign ministers.
"My colleague Boris Johnson said that he has no evidence that Russia interfered in any way in the Brexit referendum," Lavrov told reporters.
"Not successfully. Not successfully, I think is the word," Johnson hastily clarified.
"Now he's afraid to say anything to the contrary – or his reputation would be devastated back at home," Lavrov chuckled.
Although he betrayed a sheepish grin, Johnson pressed home his point. "I think it very important that you should recognize that Russian attempts to interfere in our elections or referendums - or whatever they may have been - have not been successful. So, you can reassure yourself on that point. Had it been successful, that would have been an entirely different matter."
Lavrov repeated Johnson's admission that there is no evidence. "I would like to see at least some facts proving the accusation that we interfered unsuccessfully," said Lavrov. "Without facts, how can we even talk about that? You just imagined that, made it up, taken it out of thin air. It's difficult to get off the fence that you've crawled up."
Johnson insisted the key word is 'successful.' "As I say, there was abundant evidence of Russian interference in elections in Germany, Denmark, France, and America," said Johnson. "As I say, there is no evidence of any successful Russian interference in the UK [votes]… I hope that this page can be turned, and that we can move on from this, and any such efforts [at interference] should be abandoned because what the people of the world want to see is free, fair democratic elections without outside interference."
Although Johnson appeared to hit a conciliatory note during his Moscow trip, he earlier warned Russia over Britain's preparedness to retaliate against cyberattacks jeopardizing national security.
Britain's domestic intelligence and security service, GCHQ, said on Wednesday that the country's cyber-defense plans are ahead of schedule. They include the capacity to bring a hostile state to a standstill, and making missiles and warplanes malfunction.
"I can assure you that the UK is a world leader in this field," Johnson said. "We don't conduct malign or disruptive cyber activity, but the logic of deterrence is clearly something we appreciate in the cyber field. That is something we have acquired and are acquiring."
As he landed in Russia on Friday morning, he added: "Our relations with Russia cannot be 'business as usual' whilst Russia continues to attempt to destabilize European states, including Ukraine. However, it is vital for international security that we do talk to each other, as the consequences of miscommunication or misunderstanding are grave."
Johnson further soured relations on Sunday when he compared Moscow in an interview to the Sunday Times to the "nasty, militaristic and undemocratic" ancient Greek city of Sparta.
When asked about those remarks during the press conference, Johnson stressed he was referring to the "Soviet Union of my childhood," but that Russia today has seen an "amazing period of change, and we have a very different and new Russia today."
It is expected that the two parties will discuss ways for their countries to collaborate on issues like Syria, the Iran nuclear deal which is being undermined by Donald Trump's resistance, and the nuclear threat posed by North Korea.
You can share this story on social media: