Boris Johnson the 'committed Russophile' goes native on first official trip to Moscow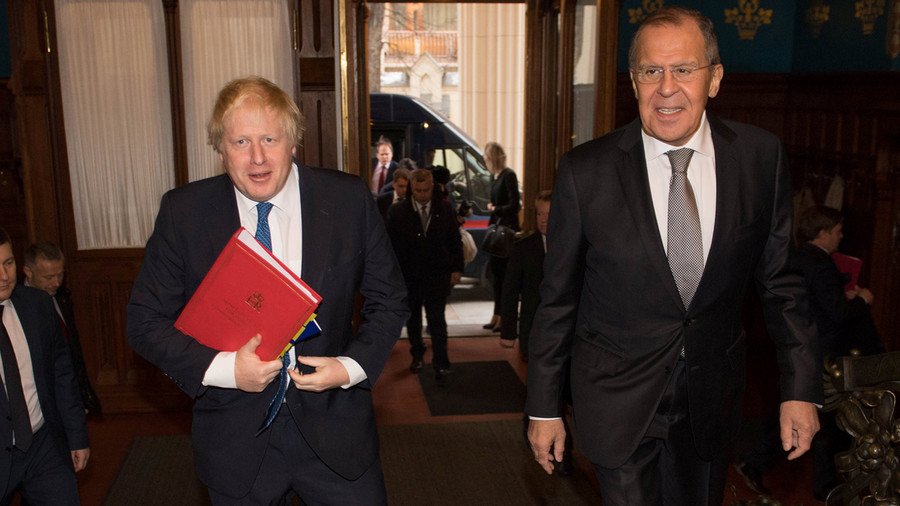 It took him several attempts to reach Moscow since becoming the top UK diplomat, but Boris Johnson finally made it, and was as keen to display his Russian credentials as diplomatic ones, declaring himself "a committed Russophile."
He is the first British foreign secretary to visit Russia in five years, amid strained relations, and he confirmed, the first British Foreign Secretary called Boris.
During a news conference following talks with Russian Foreign Minister Sergey Lavrov, Johnson attempted to show off some Russian speaking skills and offered his now traditional boast about his "Russian ancestors."
He rarely misses the opportunity these days to talk about how his great-great-grandmother was a slave from southern Russia.
"I took the trouble before coming foreign secretary to station my ancestors around the world. I have them in Germany and France, all over the place. America, and of course here in Moscow as well," Johnson said. "I believe, I am certain that I am the first foreign secretary in the history of my office to be called Boris. Probably quite likely to be the last for some time I would think."
Britain's foreign secretary said all this was a sign that he wanted to see an improvement in relations "between our peoples."
Johnson broke out his stilted but predictably confident Russian to say "spasibo bolshoi" (which means "many thanks") to Lavrov, and showed off his ability to understand Cyrillic by reading off the front of a notepad one of his staff had given him following a meeting with Russia's security service, the FSB.
The foreign secretary described relations between Britain and Russia as a "very old diplomatic relationship, dating back to Ivan the Terrible." He then admitted that Lavrov had pointed out that 'Ivan the 4th' is the official title of the former Russian tsar.
Lavrov said the talks had been "friendly," and called that "helpful." Boris said he had showed just how much trust he has by "handing his hat and coat and gloves to Sergei Lavrov, safe in the knowledge he would look after it." A laughing Lavrov responded by saying he had found "nothing" in Boris Johnson's pockets.
The two top diplomats shared a number of chuckles together. When Johnson interrupted Lavrov during an answer about alleged Russian interference in the Brexit vote, Moscow's representative suggested the UK official was just trying to protect his reputation in the media. The smirk on Johnson's face gave the impression he may have agreed.
Johnson offered one reassurance to those listening in. At the very least, "the relations between me and Sergey Lavrov are considerably better" than those between Stalin and Churchill. Well there's something to build on.
You can share this story on social media: