Doctors' horror as 30-inch sex toy gets stuck inside man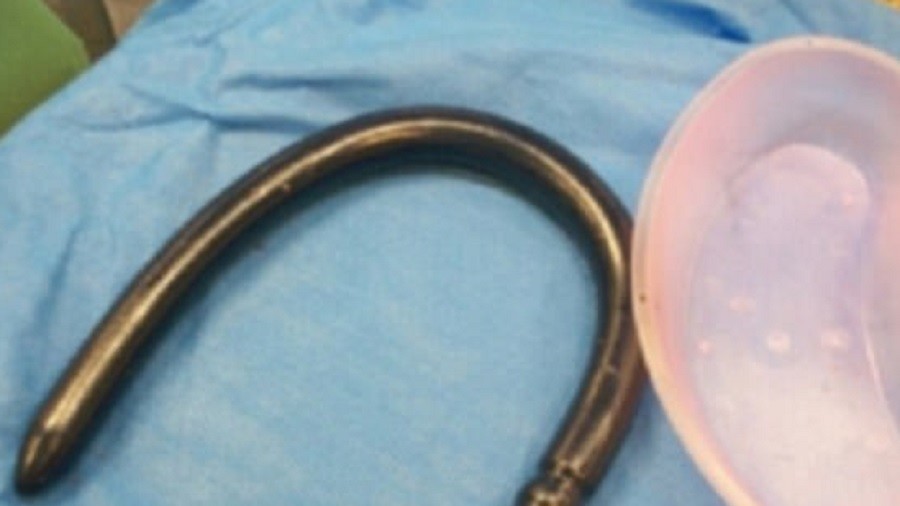 A sex toy, measuring 30 inches, had to be removed from a British man's anus after he drunkenly attempted to pleasure himself with it and instead perforated his bowel.
Doctors confirmed the man "lost control" of the toy and ended up with it lodged inside himself.
The British Medical Journal (BMJ) reported the bizarre case and issued a warning over the practice. Doctors said the sex toy, measuring three quarters of a meter, was "unusually large".
The BMJ report said: "This case is the first of its kind and exclusive, due to the enormous size."
The patient, who is not being named, presented himself to the A&E department at a hospital in Lincolnshire suffering from severe pain.
Dr Saad Ikram was among a team of medics who dealt with the case.
He said the patient had a "smooth shadow" in the right side of his abdomen during an X-ray.
Medics at the hospital were stunned over the sheer size of the object the man had attempted to pleasure himself with.
The massive sex toy was removed, along with 20cm of the man's large intestine. Nine days later the man was released from hospital.
The patient had to be hooked up to feeding tubes while in hospital and had a stomach bag fitted.
The BMJ's Case Reports has prompted experts to warn people about "highly dangerous" sex acts. The injury presented by the patient, although extreme, is common.
What is known to medics as "colorectal foreign bodies" are often retrieved from inside people at hospitals in Britain.
Cases include hoover extensions, broomsticks, glass bottles, cans, aerosol sprays, candles and bulbs.
Dr Michael Brady, medical director at Terrence Higgins Trust, previously issued warnings about the insertion of foreign objects inside the body.
He said: "Sex toys and other objects can be a safe and enjoyable part of a healthy sex life but it's important to use common sense when choosing an object.
"Anything with sharp edges or made of glass can shatter and tear the internal lining, which can cause injury and infections, as well as giving viruses an easier route into the body.
"Anything that is inserted into the body should be smooth, non-fragile and easily retrievable."