'For gender equality': Clitoris to join penis sculpture at French university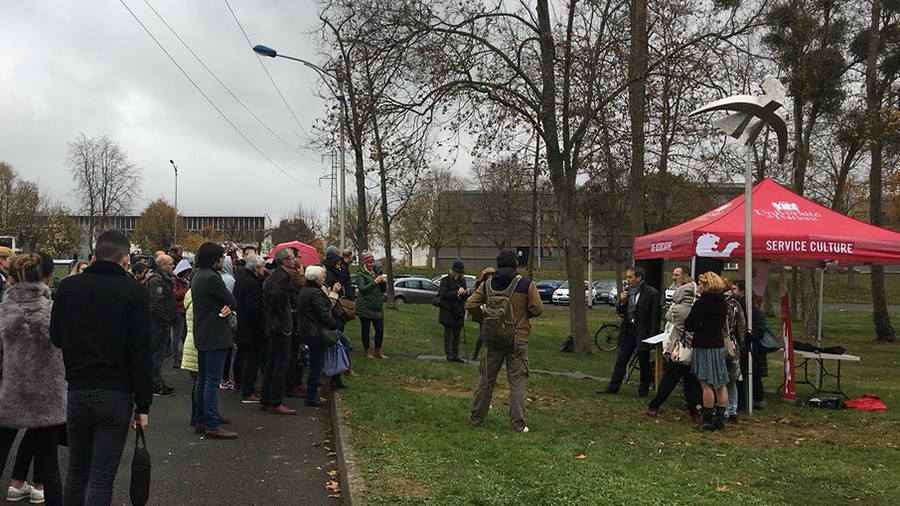 A French university will install a clitoris sculpture on campus to join the concrete penis erected decades ago. The feminist group behind the project says the statue means "gender equality" and will host a "clitoris party" after the installation.
The statue of the female organ will be installed on campus at the University of Poitiers on Friday, local Centre Press newspaper said. The project aims to raise awareness about violence against women, Vice President for Student Life Isabelle Lamothe has said.
According to Lamothe the project was developed by British artist Matthew Ellis, famous for photos of naked or semi-naked women.
The initiative was proposed by the Friends of Women and Liberation (LAFL) feminist organization. LAFL president Emma Crews "wondered how [the university] could have a giant penis on campus for so long, while the clitoris has only appeared in science textbooks this year," Penelope Muffat, LAFL Deputy Secretary told FranceInfo.
The university has indeed had a sculpture dubbed Bitard penis for nearly 40 years, according to French media. The project was launched by the Order of the Venerated Bitard, a student association of the University of Poitiers created in the 1920s. The members call themselves bitards, after a mythological creature – part marten, part fish, and part peacock – which once lived in Poitiers forests, according to local legends.
READ MORE: Giant sex toy or Christmas tree? Paris baffled and outraged (VIDEO)
This prompted Crews to propose the clitoris sculpture to Ellis and the university accepted the offer, Lamothe said. The sculpture paves the way for "for gender equality", she added.
LAFL initially wanted to install the giant clitoris next to Bitard penis. "We don't want to dismantle the penis. We want women to be also represented on campus," says Muffat, adding that Bitard student association is looking forward to see the clitoris sculpture. Lamothe added that the clitoris need not be situated near the penis.
"I believe that the students who will pass by the new statue will start talking not only about the clitoris, but also about the tragedy of female genital mutilation," Muffat said. LAFL has organized several events on Friday evening including the Clitoris Party.
In May 2016 feminists 'desecrated' the Bitard penis with sanitary napkins and anti-sexist messages. "Bitard = sexism," "No to the patriarchal state," the signs read. The activists said that the sculpture emphasised that the territory of the university is only for males.
You can share this story on social media: