Bus driver admits he hit accelerator & catapulted pedestrian 45ft in air (VIDEO)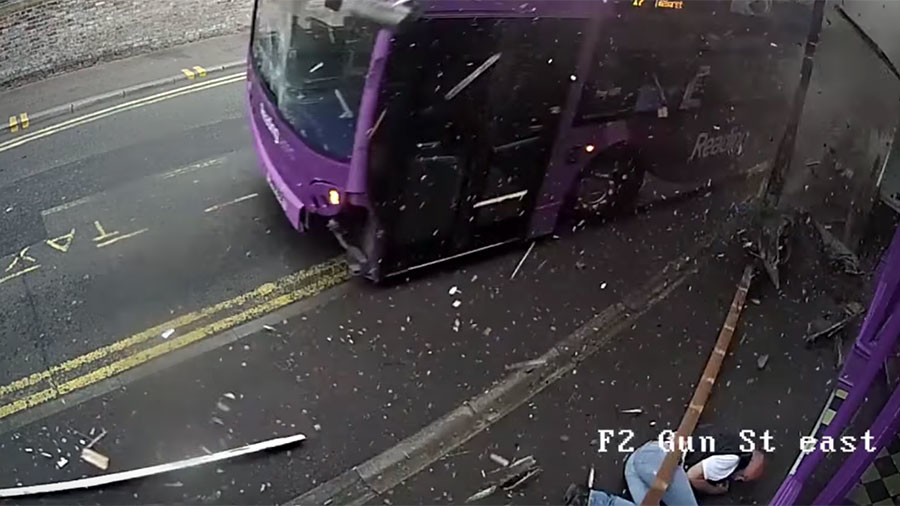 A bus driver who was seen in viral video footage sending a man flying 45 feet after accidentally hitting the accelerator rather than the brake has admitted dangerous driving.
The shocking footage revealed the moment Cheikh Senghor, 40, of Wallingford, Oxfordshire, smashed his double-decker bus into Simon Smith, a lorry driver.
Smith is then seen landing on the pavement, before he gets up and casually walks into the nearby Purple Turtle Bar on Gun Street, Reading.
It was reported that Smith – who survived the crash with just minor bone fractures and scrapes – was flung 45 feet following the incident, which occurred June 24.
Senghor, who admitted to a count of dangerous driving on Thursday at Reading Magistrates Court, claimed he unintentionally hit the accelerator rather than the brake, causing the high-speed collision.
Ann Sawyer-Brandish, prosecuting, said: "It involves an incident where a pedestrian has been knocked over and injuries have been caused to him.
"The bus had been travelling at an excessive speed in a busy area," the Reading Chronicle reports.
"[The injuries] were significant. There were fractures and internal bruising."
The footage also reveals the extent to which the Purple 17 bus, operated by Reading Buses, was heavily damaged in the crash.
Alexander Dos Santos, defending, said it is a tendency of the type of bus to surge forward when the accelerator is pressed.
District Judge Davinder Lachhar disputed this as potentially being a mitigating factor, saying there would be an expectation that bus drivers are familiar with how their vehicle commonly operates.
Judge Lachhar said: "It is a very busy part of the area and it is lucky that not more than one person were there. There is high culpability here, I would have thought."
She told Senghor, according to the Daily Mail: "You will be remanded on unconditional bail to appear in Reading Crown Court for sentencing, as my powers are insufficient."
At the time of the crash, Smith said: "I heard some banging behind me and I was hit from behind. Then you can see what happened from the CCTV.
"The video says it all. I didn't tense because I didn't know it was coming. After it I just wanted to get somewhere safe. I feel very lucky to be alive," Smith told The Sun newspaper.