West failed Syria and left 'pitch wide open for Russia' claims Boris Johnson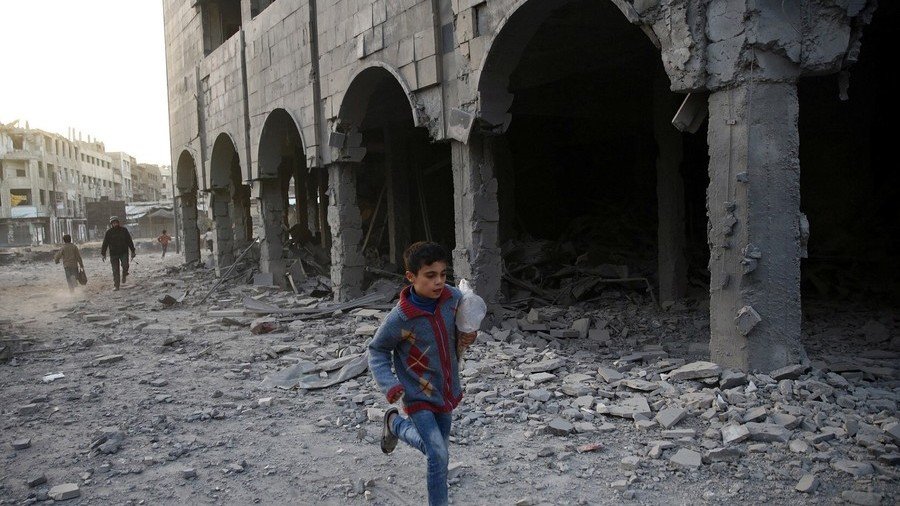 The West failed Syria and left "the pitch wide open for Russia," says UK Foreign Secretary Boris Johnson. "We set the red lines ... and then we did nothing about it," he commented in London on Thursday, criticizing Western "aloofness."
Johnson admitted the West had set out red lines for intervention in Syria and then failed to follow through, enabling Russia and Iran to enforce their foreign policies in the war-torn country.
"We called on [President Bashar] Assad to go. We set the red lines of what we would accept in his treatment of the Syrian population. And then we did nothing about it," Johnson said, according to Bloomberg. "We willed the end, and failed to will the means - leaving the pitch wide open for Russia and Iran."
Johnson added that problems in the Middle East "have been exacerbated not so much by Western meddling as by our aloofness."
Former US President Barack Obama had drawn a 'red line' in 2012 with Assad over chemical weapons, only to be seen to back away from it in 2013.
In 2016, Obama offered the Atlantic his reasons for not enforcing that red line: uneasiness about a strike against Syria not being sanctioned by the US Congress, a lack of support from the international community and the American people and the possibility that the intelligence on the chemical weapons attack wasn't 100 percent.
"We had UN inspectors on the ground who were completing their work, and we could not risk taking a shot while they were there. A second major factor was the failure of [UK Prime Minister David] Cameron to obtain the consent of parliament," Obama said.
It has been claimed that the Obama administration's determination to close an Iran nuclear deal was likely to blame for the failure to act on its own red line in Syria. "When the president announced his plans to attack [the Assad regime] and then pulled back, it was exactly the period in time when American negotiators were meeting with Iranian negotiators secretly in Oman to get the nuclear agreement," the Wall Street Journal reported.
READ MORE: Russia preparing to withdraw military contingent from Syria – security chief
David Cameron then lost a parliamentary vote for military intervention in Syria. The UK later hit Islamic State (IS, formerly ISIS) targets in Syria, however, following a House of Commons vote in December 2015.
In April of this year, Johnson claimed if the US wanted to carry out strikes on forces loyal to Assad, the UK would find it hard to resist joining in. He also suggested there would not be a parliamentary vote on the decision because it solely rested with the prime minister.
Theresa May, however, said Johnson's comments were "hypothetical" and that "there is no proposal on the table for further strikes in Syria." Shadow Foreign Secretary Emily Thornberry told the BBC Johnson was "delusional."
Last week, Russia announced that it had started preparations to downsize its military presence in Syria. Its head of national security, Nikolay Patrushev, did not provide a timetable for the pull-out but said it will start "when ready."
Moscow previously indicated that progress in defeating IS in Syria meant the need for Russian air support for local armed forces would diminish, prompting a reduction in Russia's military footprint.
You can share this story on social media: