Love at first light: British woman proposes to chandelier she found on Ebay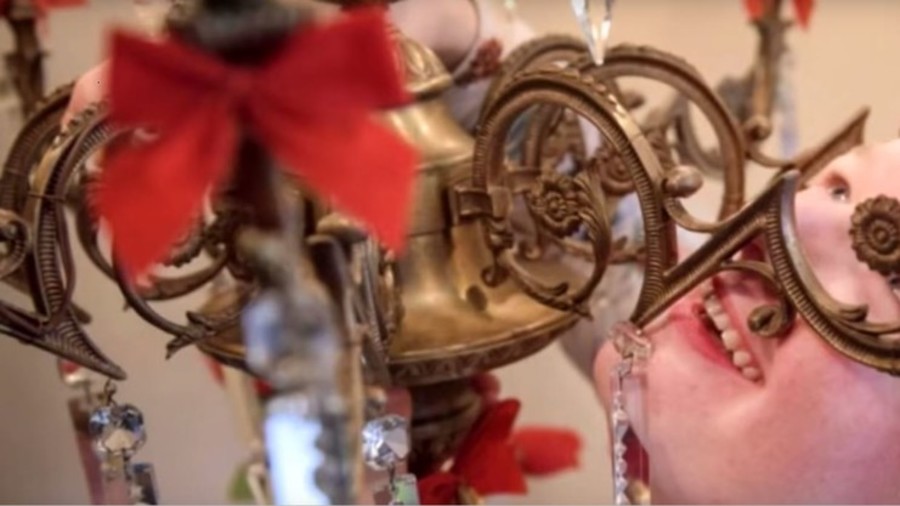 A British woman is about to marry the light of her life after meeting her online… but it isn't your average relationship. Amanda Liberty has proposed to a 90-year-old chandelier she found on Ebay.
Leeds woman Amanda Liberty is engaged to marry 'Lumiere,' a Baccarat crystal chandelier 53 years her senior. £400 in shipping costs later, the 33-year-old woman now showers the nearly 70cm-wide chandelier with kisses and cuddles, and even proposed to the light fitting on Valentine's Day.
But her romantic affection doesn't stop at just one ornate light fitting. At night Liberty cuddles up with an entirely different light fitting – a smaller chandelier named Jewel.
In fact, she is in an open relationship with no less than 25 different light fittings. Luckily, Lumiere doesn't seem to mind – after all, it's the one with the ring.
33-year-old Leeds woman Amanda Liberty is engaged to a chandelier she met nearly a year ago. and after 7 years I can't get my boyfriend to propose! Clearly I don't light up his life enough. pic.twitter.com/HMG4su16jm

— Rachel Lang (@rlangjournalist) December 7, 2017
"None of my chandeliers are jealous of each other. They understand that I love them all for their different personalities. For example, I love kissing and cuddling Lumiere, but I sleep with Jewel every night as she is portable and very nice to cuddle."
"Last Valentine's Day I proposed to [Lumiere], to signify our long-lasting love," Liberty told the Metro. "I haven't been engaged before, so it's very new and exciting!"
33-year-old Liberty is an 'object sexual,' in other words, she's romantically attracted to objects. She said she first realized that she was sexually attracted to items when she fell in love with a drum kit at the youthful age of 14. As an adult, she fell in love with the Statue of Liberty and even changed her name by deed poll to Liberty.
When asked why she decided to shine a light on her out-of-the-ordinary relationship, she said she wanted "others to see how happy the chandeliers make me, and how much they've enriched my life.
"I'm not hurting anyone by entering into a relationship with them," she added. "I am simply just following my heart."
Although the Church of England and the law will not recognize their love affair, Liberty said she hopes the two can be joined in a commitment ceremony.