Print and be damned: Cambridge News accidentally goes to press with dummy front page headline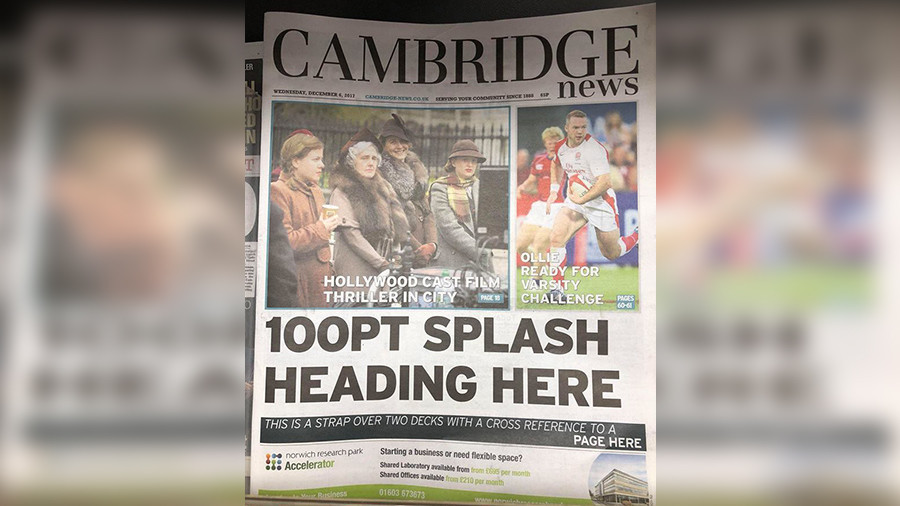 A local newspaper has apologized after misplacing its front-page headline and accidentally splashing with the dummy text used as a guide for writers.
The daily paper ran a front page headlined "100PT SPLASH HEADING HERE" and the strapline: "THIS IS A STRAP OVER TWO DECKS WITH A CROSS REFERENCE TO A PAGE HERE." The dummy text was accidentally printed in place of the intended headline of "£2m for 'sex lair' school," which referenced a story featuring on page 11.
Editor-in-Chief David Bartlett said: "I want to apologise sincerely to our readers for this mistake, which happened due to a technical problem. We are still looking into how this happened and want our readers to know we take this seriously."
READ MORE: Daily Fail: Profits & shares in Britain's most (in)famous tabloid nosedive
The paper, which is owned by Trinity Mirror and which, according to ABC, has about 12,000 readers, did manage to print the correct version in its Cambourne edition.
People took to social media to mock the "epic failure".
One branded the mishap the "nightmare" of any editor.
Another poked fun at the paper, saying:
One person suggested it was a great chance for the paper to be thrust into the spotlight: