Britain 'concedes' over Irish border during Brexit negotiations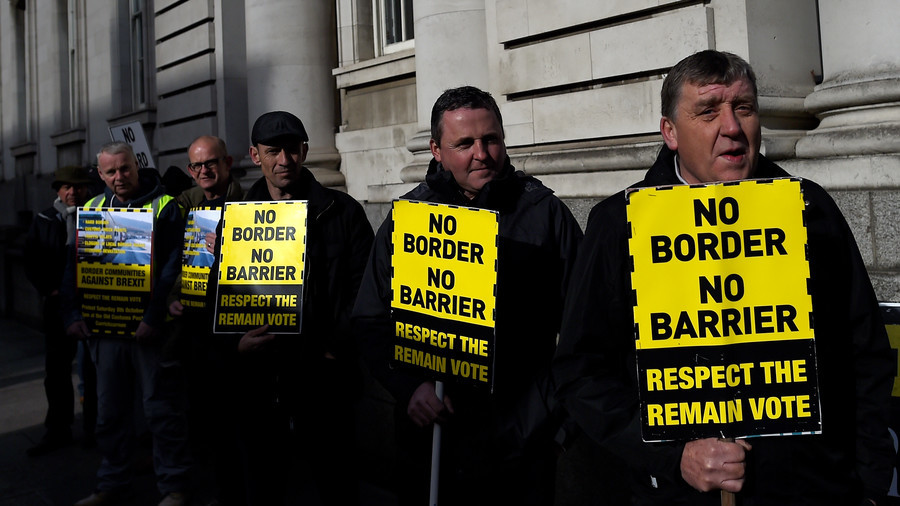 Britain has reportedly caved in to Ireland's demands on a post-Brexit border, agreeing a deal between the UK region of Northern Ireland and the Republic of Ireland, ensuring that there will be no hard border between the north and the south.
The news emerged after a weekend of doubt for British PM Theresa May, as Brexit talks teetered on the edge of disaster. Frantic bartering took place between the UK and Ireland, threatening to derail critical talks with the EU in Brussels on Monday.
It now seems that May has folded in the face of the EU and Ireland's threats. She is expected to come to a formal agreement over lunch on Monday with EU Brexit negotiator Jean Claude Juncker, European Council President Donald Tusk, and Brexit secretary David Davis.
The 310-mile (499km) border between the UK province of Northern Ireland and the Republic of Ireland is seen as a particularly sensitive part of negotiations, with Northern Ireland leaving the EU and the Republic remaining. Trade across the Irish border is worth £43 billion ($58.1 billion), with more than a third of Northern Irish exports heading south.
The UK wants to withdraw from the EU customs union which, unless special arrangements are made, would create a barrier in the currently seamless trade system experienced between the north and south.
Last week, European Council President Donald Tusk warned the UK PM that if a reasonable offer isn't put on the table for the Irish border, the EU will block Brexit talks until a fair agreement between Britain and Ireland can be made.
Tusk's threat came after a meeting with Irish Prime Minister Leo Varadkar in Dublin on Friday, which set the stage for a frenzied weekend of desperate talks and negotiations for the UK prime minister, in a last-ditch effort to reach a border agreement with Ireland before the start of the next working week.
May is in Brussels to have crunch-talks on the issue of the Northern Ireland border, Britain's "divorce bill"; and the rights of European Union citizens in the UK post-Brexit.
Two Irish government sources have told Reuters that a deal has been struck on all issues meaning Ireland's Regulatory alignment will be maintained on the island to avoid a hard border.
"[An] agreement has been reached on an overall deal for the Irish issues," one of the sources said.
"The key phrase is a clear commitment to maintaining regulatory alignment in relation to the rules of the customs union and internal market which are required to support the Good Friday Agreement, the all-island economy and the border."
Tell me why I like Mondays! Encouraged after my phone call with Taoiseach @campaignforleo on progress on #Brexit issue of Ireland. Getting closer to sufficient progress at December #EUCO.

— Donald Tusk (@eucopresident) December 4, 2017
Although no formal announcement has been made, Donald Tusk has cancelled a planned trip to Israel and the Palestinian Territories as negotiations reach a "critical moment", an EU official said on Monday. The European Council president also took to Twitter to share a chipper comment as Britain holds its breath, waiting for the outcome of negotiations to be fully revealed.
New Irish PM Varadkar taken a no holds barred approach to negotiations, once described by a Dublin academic as "being less interested in being liked in the way that [his predecessor Enda] Kenny liked to be liked". If it turns out that Irish bureaucrats and Britain have failed to come to an agreement in Monday's Brexit talks and a hard border was enforced, the division could mean passport and customs checks at the border, and more trade negotiations.
BREAKING: Ireland's deputy prime minister : "We hope wording will be agreed in next hour".

— lisa o'carroll (@lisaocarroll) December 4, 2017
However, a failed agreement seems unlikely; Deputy prime minister of Ireland Simon Coveney told public broadcaster RTE that they hope to release a formal statement within the hour.
"We hope to be in place in just over an hour's time that the Taoiseach will be able to make a positive statement to the country. Certainly the indications we have is that we are in a much better place than we have been in Brexit negotiations to date," he said.
"We have now a language that gives us the safeguards we need; that there is reassurance for people there is not going to be a re-emergence of a border. Irish concerns are going to be addressed fully."
You can share this story on social media: