Amazon workers treated like 'animals' in exhausting working conditions, reporter reveals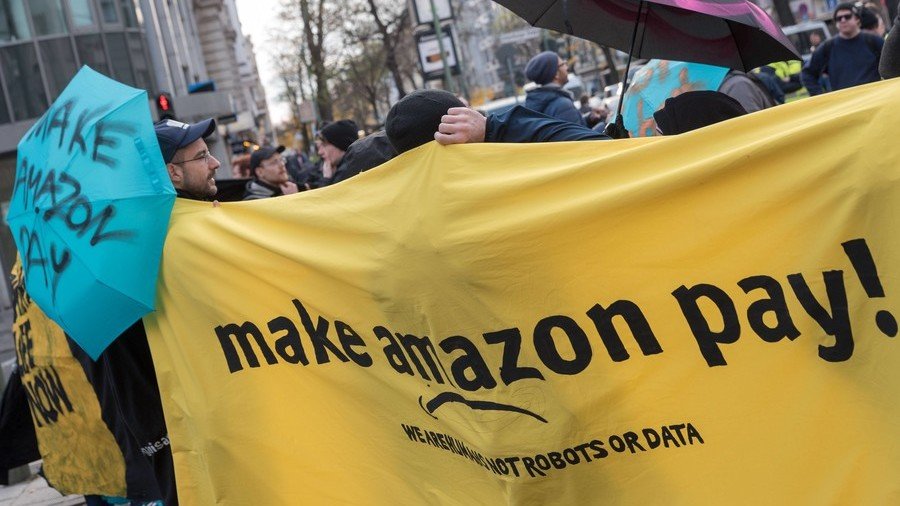 Amazon workers are being treated like "animals," forced to work to the point of physical collapse, it has been revealed. An undercover reporter for the Daily Mirror laid bare the working conditions at the world's largest retailer.
Daily Mirror reporter Alan Selby found that workers at the Amazon plant in Tilbury, Essex, were so tired that they "fell asleep on their feet" while working a 55-hour week.
Selby spent five weeks as an undercover worker at the warehouse, which is said to be as big as 11 football fields, and where employees have to walk up to one third of a mile in order to reach the toilets.
Amazon workers are constantly being monitored by cameras while being expected to package up to 300 items an hour – or one every 12 and a half seconds.
"Those who could not keep up with the punishing targets faced the sack – and some who buckled under the strain had to be attended by ambulance crews," Selby said.
With timed toilet breaks and just two half hours off, conditions at the warehouse are so unbearable that one employee said they "killed" emoloyees.
Selby wrote that one worker in Tilbury reportedly complained: "At my induction, someone was asking why the staff turnover was so high. It's because they're killing people. All my friends think I'm dead. I'm exhausted."
Another felt compelled to stress that they are "human beings."
"Why are we not allowed to sit when it is quiet and not busy? We are human beings, not slaves and animals."
The reality witnessed by Selby therefore seems far from that shown in
Amazon's happy Christmas ads.
One of the 24,000 "elves" working for Amazon across the UK- who earn £8.20 for every work hour- said: "I expected it to be all modern and powered by robots in here, but my eyes are wide open now," Selby wrote in the Daily Mirror.
While the American retailer made £7.3billion of sales in the UK last year, it was reported that an ambulance was called for workers in its main Scottish warehouse up to 43 times in the same period.
Selby also reported safety incidents while at the warehouse, with one colleague being taken to the hospital and another being assisted by paramedics as she had a panic attack once she discovered she would have to work 55 hours over Christmas, too.
Some reported having to carry on working despite suffering injuries:
"Everybody suffers here. I pulled my hamstring, but I just had to carry on. My friend spent two days off after she damaged her knee ligaments," they said, according to Selby.
Amazon said on Sunday: "Amazon provides a safe and positive workplace with competitive pay and benefits. We are proud to have created thousands of roles in our UK fulfilment centres."
The statement added: "As with most companies, we expect a certain level of performance. Targets are based on previous performance achieved by our workers and associates are evaluated over a long period of time."
You can share this story on social media: