'UK plays security card as May uses strong language against Russia'
UK Prime Minister Theresa May depicting Russia as a "threat" is just a useful "security card" in negotiations with the EU and a tool to win support from Eastern partners. So Wyn Grant, professor of politics at Warwick University, has explained to RT.
Earlier this week, the UK lambasted Russia in the key points of May's speech for the 5th Eastern Partnership (EaP), in which she called on European states to stay vigilant "to the actions of hostile states like Russia which threaten this potential and attempt to tear our collective strength apart." May branded Russia the top threat to European democracy and security as it had allegedly meddled in elections.
Read more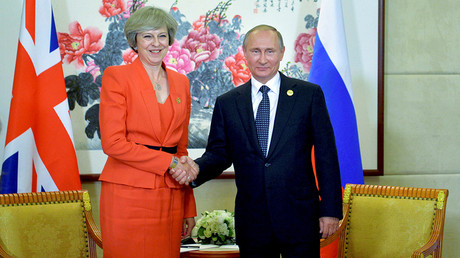 However, the anti-Russia rhetoric and May's "using such strong terminology" plays well both domestically and in the negotiations process, Wyn Grant told RT. He believes that London plays "the security card" mainly to curry favor with countries neighboring Russia.
"The UK thinks the security card is the strong one for it to play in those negotiations, and particularly to win support from countries in east Europe," Grant stated.
While the UK is negotiating its way out of the EU, the President of the European Council, Donald Tusk, seemed to side with May over the Russian issue. Tusk voiced some harsh criticism for Moscow following a meeting with the bloc's eastern neighbors. Tusk's support of the UK is just a form of "reassurance" in the Brexit talks, according to Grant.
"I suppose he [Tusk] wants in some ways to reach out to the UK. From his point of view, he would want to see these negotiations to be successful. Therefore, talking about this security issues is one way of offering some kind of reassurance to the UK," the expert said.
READ MORE: 'Alarm!' EU's Tusk says Polish govt policy is 'Kremlin plan'
The professor also said that he is surprised by Theresa May's rhetoric, adding that "to talk about Russia as a hostile state is very strong language indeed." At the same time the anti-Russian stance rules out the opportunity for a constructive relationship with Moscow, Grant warned.
"One would hope to have a constructive relationship between the UK, the EU and Russia – I don't think that sort of terminology helps the development of the constructive relationship at all. In fact it obviously goes in the opposite direction," he said.