Downing Street drawing blueprint for Tory election defeat – Farage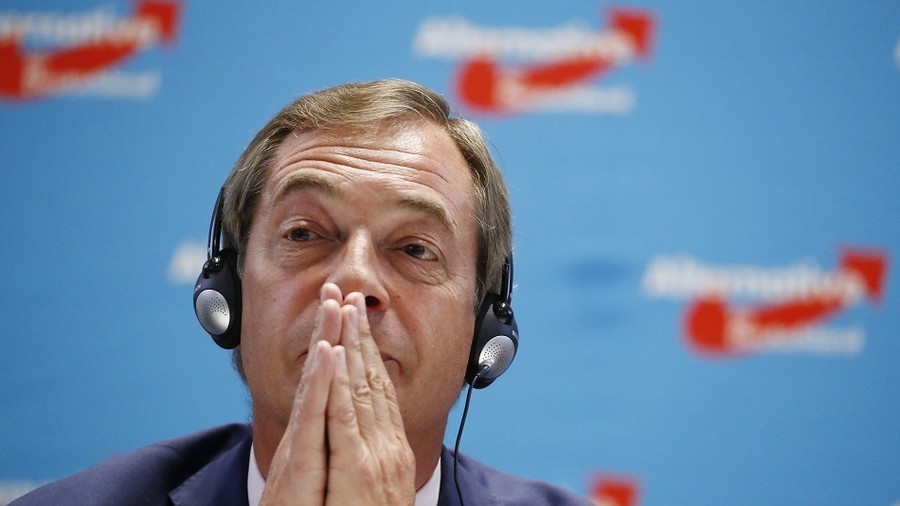 The Conservative Government is giving up on every promise it made to the UK, in moves which will see them punished at the ballot box… again, according to Nigel Farage. The former UKIP leader campaigned for Brexit for almost two decades.
Nigel Farage has called on 'leave' voting Tories to stand up and be counted, venting his fury at the backing down of Brexiteer ministers in what he has branded the "ultimate sell-out."
"Once they balked at the idea of a transition deal," he wrote in the Telegraph."Yet now, they seem happy to accept that we should be locked into such an arrangement for at least two years and probably (I am willing to bet) up until the next general election, which is scheduled for 2022.
"And whereas previously they said that any future jurisdiction of the European Court of Justice would be unacceptable, now they are prepared to accept its authority at least for the duration of a transition deal and maybe even longer."
Branding them "the sell-outs," Farage took aim at MPs including Michael Gove, David Davis, and Foreign Secretary Boris Johnson, who all campaigned for 'leave.' And, he is fuming over the Brexit bill.
The Conservative Government is reportedly considering doubling the £20 million ($26.5 million) offer for commitments up until 2020 after the European Union refused to continue talks until a better offer was made.
"It is simply monstrous that these funds, which could and should be spent constructively in the UK, are instead being made ready to hand over to Brussels," he wrote.
"Isn't this nothing more than a filthy bribe? The lack of spirit shown by the Eurosceptic wing of the Cabinet, and its refusal to stand its ground, is profoundly depressing and deeply humiliating. It is also totally unnecessary."
Farage accused the Government of acting in "self-interest." He claimed the party did the same over the Maastricht debates of the 1990s, uniting for a vote in the treaty only so Labour would not defeat them.
Farage said May's Government will hand Corbyn the rule of the nation if they carry on as they are.
"Many of those who backed the party before on the basis that it had promised to deliver a clean Brexit would surely be so unhappy they may not bother to vote at all," He wrote.
"Others might be tempted to drift back to UKIP. On several occasions since the summer I have warned of the great Brexit betrayal. It pains me to say it, but it seems Britain is still a long way from truly breaking free from the EU's grip."
You can share this story on social media: