EU became a 'caricature' of its founding values – former Catalan leader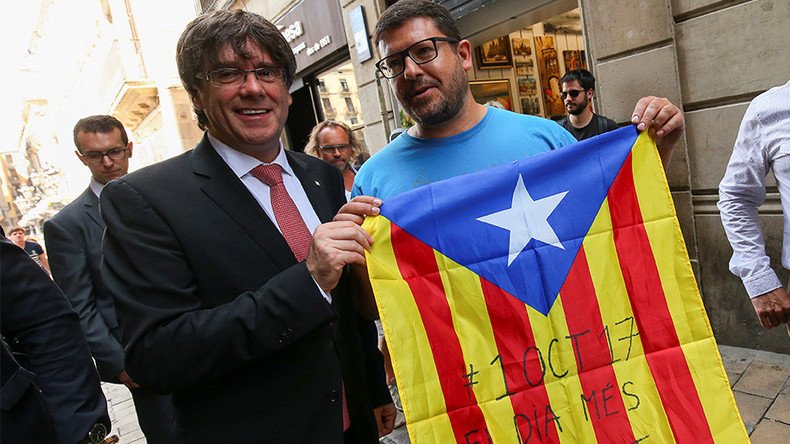 Sacked Catalan leader Carles Puigdemont has lashed out against the European Union (EU) over its response to the Catalan crisis, in which Brussels sided with Madrid in suppressing the independence drive of the region.
Puigdemont criticized the EU as a "caricature of what Europe is and of what we want Europe to be," claiming, there is "no will to help solve the politics of the conflict."
Catalonia staged a regional independence referendum on October 1, amid a massive crackdown by police on voters in which nearly 900 people were injured. Following the 'yes' vote, Barcelona attempted to initiate dialogue with the central government, hoping the EU would step in and act as mediator to help defuse tensions.
Leaders of European nations, as well as the EU's main institutions, sided with the Spanish Prime Minister Mariano Rajoy instead, and refused to recognize Catalonia's self-determination call, referring to the crisis as an internal Spanish matter.
The former Catalan leader sees it as a betrayal of the fundamental "values that took us to constitute Europe." Puigdemont believes the EU leadership, which he said comprises "four or five governments," are "probably not the most appropriate to lead the EU."
"What will the EU become in hands of these people?" the former Catalan leader asked, pointing out that he does not want the EU's leadership to "confuse" traditional European values with "their political and economic interests."
Just this week, European Commission President Jean-Claude Juncker called on all member nations to fight against separatist tendencies in Europe, apparently in reference to Scotland, Lombardy, Venice and other regions throughout the continent which have expressed strong self-determination ambitions.
"Nationalisms are a poison that prevent Europe from working together," Juncker said Thursday in the Spanish city of Salamanca. "We cannot stay with our arms crossed because it is time for us to do what needs to be done. I say 'no' to any form of separatism that weakens Europe and further widens the existing fissures."
Puigdemont is currently in Belgium, trying to evade Madrid's charges of rebellion, sedition, and embezzlement over his leadership role in igniting Catalonia's referendum vote and subsequent independence declaration last month. Spain's Constitutional Court this week annulled the independence proclamation by Catalonia's parliament on October 27.
Prior to that, the Spanish government sacked the Catalan President and dismissed the regional parliament, calling local snap elections for December 21. Key Catalan government and parliamentary figures were then arrested, while Puigdemont and four of his ex-ministers managed to leave Spain for Belgium.
"To be treated like a criminal, like a drug-trafficker, like a paedophile, like a serial killer, I think this is abuse," the Catalan leader lamented. "This isn't politics, this is using the courts to do politics."
You can share this story on social media: