May she go? Paying off Brussels while cutting troops could spark Tory rebellion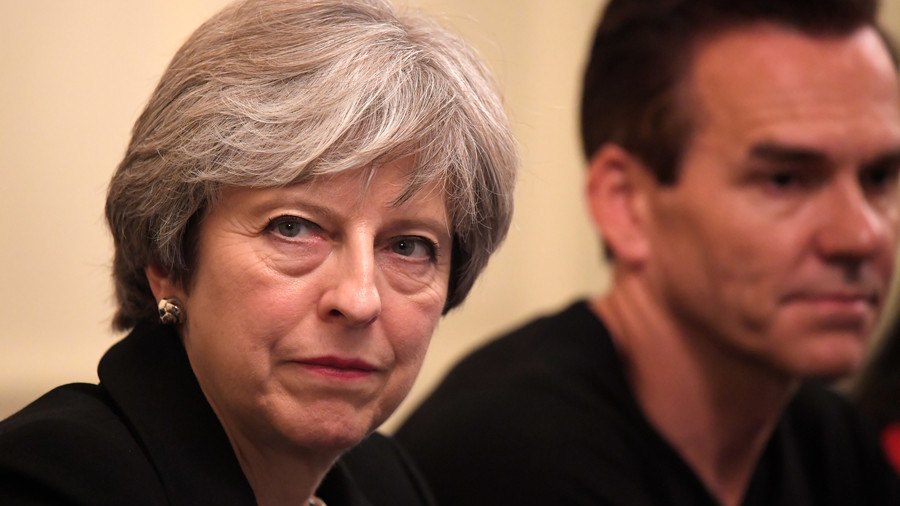 Theresa May could well have just signed her own political death warrant. Putting her signature to a £40 billion cheque for the European Union might be the last straw for the backbenches of her restive party, who want to know where the money will come from.
A backlash is brewing over the apparent decision to cave to the EU's Brexit divorce bill demands. The prime minister is expected to ask her Cabinet to sign off on plans to offer Brussels a massive £40 billion settlement fee – double what she offered after her Florence speech.
Brussels negotiator Michel Barnier backed Britain into a corner by refusing to continue talks – and inside sources say he is about to be rewarded with a bumper pay day.
But the money being handed over must be found elsewhere, and ministers have a feeling their departments are for the chop.
And, if those cuts should fall on the Royal Marines under sweeping defense savings, there could be a backbench revolt big enough to topple Theresa.
Defence Secretary Gavin Williamson has been warned by 21 MPs he will be hit with a massive backlash if the current 6,400-strong force is cut and two amphibious assault ships are scrapped.
"At some point, you have to make a stand for what you believe in," said Johnny Mercer MP, a former army officer, member of the Defence Select Committee and lead signatory on the letter.
"I am simply not prepared to see the degradation of the UK's armed forces any further in this national security review."
Tory rebels have an influential newspaper on their side, edited by a very bitter former finance minister. Ex-Chancellor of the Exchequer George Osborne, now the editor of the Evening Standard, is not pulling his punches.
Osborne has allowed fiercely critical editorials to be published that have revealed insights into the inner workings of government.
On Monday, May was mocked for the decision to pay off Michel Barnier and his negotiating team.
"Just over a year ago, the Brexiteer leaders loudly told the public that they would get money back if they voted to leave the EU," Osborne's paper reported.
"Today, behind the closed doors of Downing Street, those same politicians will quietly agree instead to hand over more of the public's money to Brussels.
"As has become painfully clear over the past few months, the EU holds the cards in this negotiation. We need access to its markets. It's the EU's decision whether to grant it.
"The failure to agree to that access, while damaging for some EU countries, will be far more damaging to Britain. And because we've triggered Article 50, the clock is ticking and only the EU can decide whether to extend the deadline."
Britain may be forced to save £30 billion from the defense budget. Cost saving options have been suggested, such as cutting the Royal Marines by 1,000 personnel, scrapping HMS Bulwark and HMS Albion, and reducing the army to as few as 65,000 troops – almost 20,000 under target strength.
Chancellor Philip Hammond is being urged to earmark more cash for the armed forces, and ignoring the will of the MPs could be catastrophic.
Cutting troops at a time of tension with North Korea, while paying off so-called commitments for a year after Britain has left the EU, could deliver a fatal blow to the May administration.
Sir Gerald Howarth, a former international security strategy minister, told the Times: "The world is in a very critical condition."
"This is no time for Britain to be engaging in further defence cutbacks, it's a time to be building up our defenses."
The Standard pointed out how Harlow MP Robert Halfon could stir up a problem for May.
"The fact that there is a bill for Brexit, rather than a bonus, has been so widely expected in Westminster that it has dulled our senses to the impact it will have when the country hears how it has been misled by the Brexiteers," an editorial said.
"A clue was provided last night by Robert Halfon — a Tory MP with a populist instinct for what will and won't wash with the public. Mr Halfon says he voted Remain but 'if we start saying we're going to give £40-£50 billion to the EU, I think the public will go bananas, absolutely spare.' As we saw with his rebellion over fuel duty hikes, where Mr Halfon leads, other backbenchers tend to follow."
In another blow to the leader, her head of policy, Mid Norfolk MP George Freeman, resigned on Monday, apparently to concentrate on reforming the party.