Boris Johnson ready to pay UK's £450mn Iran debt to help free jailed British mother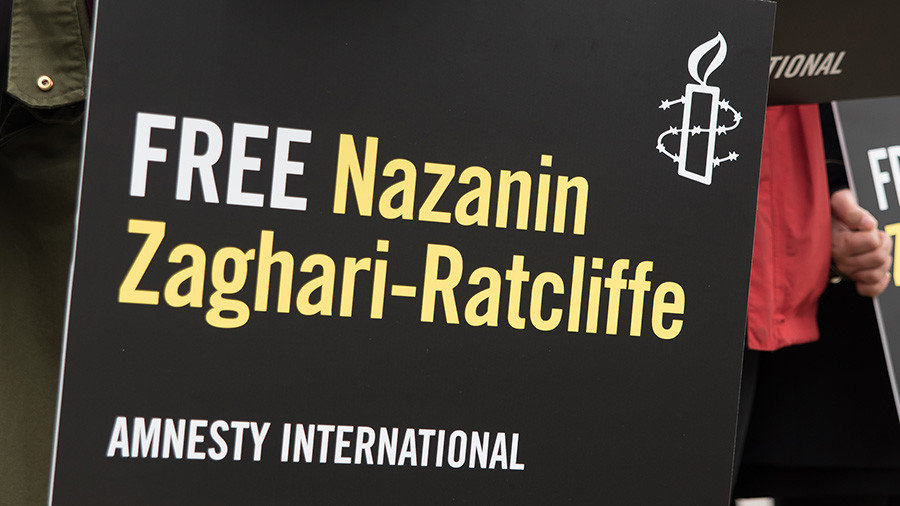 Britain is prepared to pay a £450 million debt to Iran in a bid to free a British mother jailed there for alleged espionage. The government has quietly authorized lawyers to finally settle the 38-year-old dispute over a tank deal, it has been reported.
Nazanin Zaghari-Ratcliffe was imprisoned by the Iranian government while on a family holiday in April 2016 for "plotting to topple the regime." Her plight was exacerbated when Foreign Secretary Johnson falsely told a government committee she was there as to "train journalists." After his gaffe, she was brought before an Iranian court and told she faces an extra five years in jail.
It is now understood that Johnson is hoping to improve relations with Iran by repaying a debt owed since the 1970s. The former shah of Iran paid the British government £650 million (US$857.3 million at present rate) for 1,750 tanks, but only 185 were delivered before his regime was toppled in 1979 and the order canceled. The International Chamber of Commerce demanded that Britain pay £450 million back in 2009, but a ruling on international sanctions against Iran prevented this from happening.
According to the Evening Standard, Zaghari-Ratcliffe may be being held by the Iranian government as "collateral" for the debt. However Westminster continues to insist that the two issues are unrelated.
"This is a long-standing case and relates to contracts signed over 40 years ago with the pre-revolution Iranian regime. Funding to settle the debt was paid to the high court by the Treasury in 2002. Iran's Ministry of Defense remains subject to sanctions," a government spokesperson told the Daily Mail. "It is wrong to link a completely separate debt issue with any other aspect of our bilateral relationship with Iran."
Zaghari-Ratcliffe's husband, Richard Ratcliffe, met with Johnson on Tuesday and asked him to secure him a safe passage to Iran. He told the foreign secretary his "softly softly" approach is not working. "It is important that the UK honors its international legal obligations, so that Iran can honor its legal obligations," Ratcliffe told the Sun.
Johnson has apologized for the "anguish" he caused when making incorrect claims about the case.
The Foreign Office is still considering whether it will give diplomatic protection to Zaghari-Ratcliffe, according to the BBC. The government said lawyers would discuss the issue, but said the question was whether it would help her case.
Ratcliffe says diplomatic protection – which allows a state to take diplomatic action on behalf of a national – would be "important and helpful." The protection would signal that the UK is treating the case as a formal, legal dispute between the UK and Iran.
He has also discussed with Johnson the possibility of a joint trip to Iran before the end of the year. Ratcliffe said Johnson had no fixed date for his planned visit to Iran, but the foreign secretary was "keen" to travel with him.
Zaghari-Ratcliffe is said to be close to a nervous breakdown. She has also found lumps in her breasts.
You can share this story on social media: