Footage shows moment acid is hurled across London nightclub (VIDEO)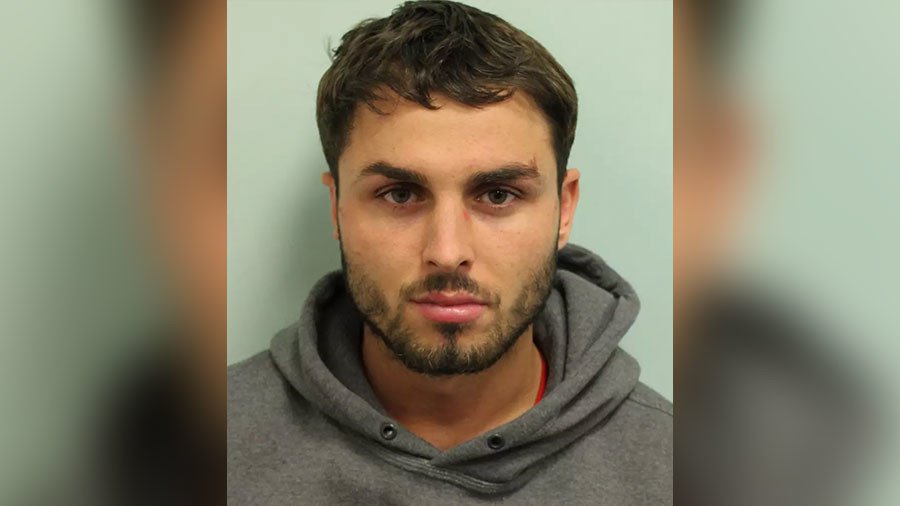 Police have released shocking videos of the moment a reality TV star's boyfriend hurled acid across a crowded nightclub dancefloor while wearing a 'Candy Killer' T-shirt. Arthur Collins, 25, was found guilty of the attack Monday and told he faces a "substantial" jail term.
Collins, the now ex-boyfriend of 'The Only Way is Essex' star Ferne McCann carried out one of Britain's worst acid attacks, injuring 22 people at Mangle in east London in April. The footage shows him cowering behind another man as he throws the corrosive substance across the club.
Victims described a burning smell and their skin "blistering straight away" before everyone started "screaming, shouting, running." Clubbers dropped to their knees, shielded their faces with clothing, and rubbed ice on their skin in the aftermath of the attack.
Collins, who was out celebrating the news of McCann's pregnancy, said he did not realize the liquid was acid. He said he thought the liquid was a date rape drug, which he had snatched from two men after hearing them planning to spike a girl's drink.
A jury at Wood Green Crown Court convicted him of five counts of grievous bodily harm with intent, and nine counts of actual bodily harm against 14 people. Judge Noel Lucas QC warned that he faces a "very substantial and immediate" prison sentence when he returns to court next month, according to the Daily Mail.
"I am concerned as to whether he poses a danger to members of the public," the judge said. "It's a somewhat exceptional case, bearing in mind the circumstances of what happened, the number of people injured and the severity of their injuries."
Twenty-two people reported injuries to the police. A total of 16 people suffered chemical burn injuries and three people were temporarily blinded. One person still suffers from blurred vision in one eye. Two of Collins' victims called for a life sentence, which is what they have been condemned to by long-term scarring and trauma, they said.
It is believed the attack was part of a feud between rival gangs which "spiralled out of control." Collins was identified from the CCTV footage, in which Collins can be seen wearing a T-shirt with the world "killer" on it.
Collins' co-defendant, Andre Phoenix, 21, from north London, had earlier been acquitted of four counts of grievous bodily harm, and two of actual bodily harm.
When Collins was apprehended by police, he was Tasered after trying to flee from an upstairs window of a house in Higham Ferrers, Northamptonshire. He has a previous conviction for actual bodily harm in December 2015 after he punched another man in the face in another nightclub attack.
You can share this story on social media: