Major Tory U-turn: Parliament will get binding vote on final Brexit deal after all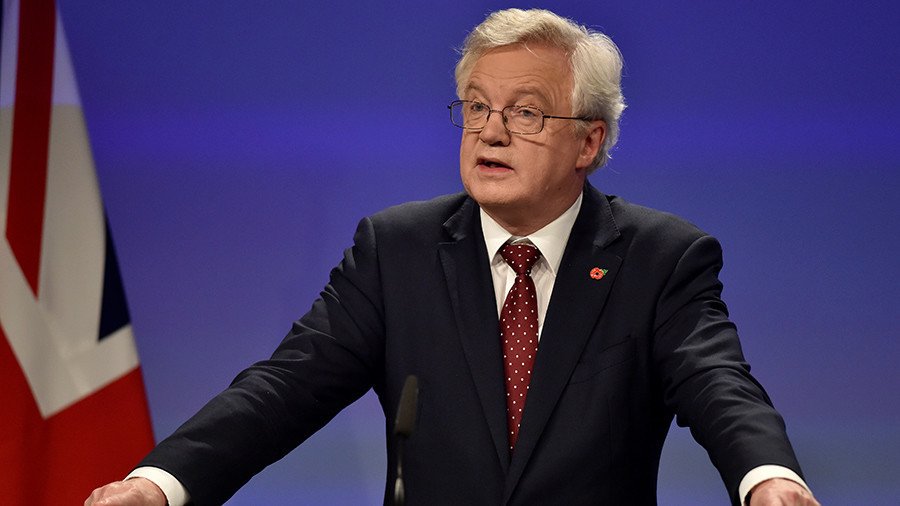 Parliament will get a vote on the final Brexit deal before Britain leaves the bloc, Brexit secretary David Davis has told MPs. The terms of the UK's exit, including any transition deal and agreement on citizen rights, would have to become law via new legislation.
That means MPs will have the opportunity to debate, scrutinize and vote on any final Brexit agreement, and reject or amend legislation. Britain could therefore leave the EU without a deal if MPs vote down the final agreement.
"I can now confirm that once we've reached an agreement we will bring forward a specific piece of primary legislation to implement that agreement," Davis told Parliament. "This also means that parliament will be able to debate, scrutinize and vote on the final agreement we strike with the European Union. This agreement will only hold if Parliament approves it."
Under questioning by MPs, Davis admitted there was no guarantee the Bill would come before Brexit day, in March 2019, describing that only as "our principal policy aim." He rejected a call from Dominic Grieve, the former Attorney General, for the two-year Article 50 talks to be extended, if "we run out of time."
Monday's announcement comes after weeks of discussions with Tory rebels who had warned that they were prepared to defeat ministers by demanding a legally-binding vote on Brexit. Prime Minister Theresa May is under pressure to offer Parliament the chance to have a 'meaningful vote' on any deal on Britain's departure from the European Union, with members of her own party willing to vote against the government to stymie legislation needed to sever ties with the bloc.
Heidi Allen, a Tory rebel, tweeted that a fresh Bill would be "pointless" if MPs also back the Prime Minister's plan to put the exact date and time of withdrawal in legislation. "Pointless if we have enshrined a drop dead date in the Bill & get a deal at 11th hour! There'd be no time!" she said.
Shadow Brexit secretary Keir Starmer said it was a "significant climbdown" from a "weak government on the verge of defeat." He added: "Ministers must now go further. They need to accept Labour's amendments that would ensure transitional arrangements, and protect jobs and the economy from a cliff edge."
Labour MP Chuka Umunna tweeted that Davis' announcement is "totally insufficient" and raised concern that if there is no deal, MPs would get no vote. "He gave no guarantee of a meaningful vote before 29 March 2019 and this doesn't cover the event of there being no deal."
Umunna added: "Davis has just confirmed his new EU Withdrawal Bill for the final agreement does not preclude crashing out without a deal or meaningful vote. Parliament would be effectively sidelined which makes a mockery of parliamentary sovereignty."
David Davis' announcement just now that there will be an Act of Parliament to approve a final EU deal is totally insufficient: he gave no guarantee of a meaningful vote before 29 March 2019 and this doesn't cover the event of there being no deal /1

— Chuka Umunna (@ChukaUmunna) November 13, 2017
Liberal Democrat Brexit spokesperson Tom Brake said a parliamentary vote "simply isn't good enough." He tweeted: "The people voted to leave the EU, they should get to decide whether to accept the deal the government has negotiated. If they reject the government's Brexit deal, they must have the option to stay in the EU."
.@DavidDavisMP A parliamentary vote simply isn't good enough. The people voted to leave the EU, they should get to decide whether to accept the deal the government has negotiated. If they reject the government's Brexit deal, they must have the option to stay in the EU. #Brexit

— Tom Brake (@thomasbrake) November 13, 2017
You can share this story on social media: