Teacher faces sack after mistakenly calling trans student 'girl'… despite immediate apology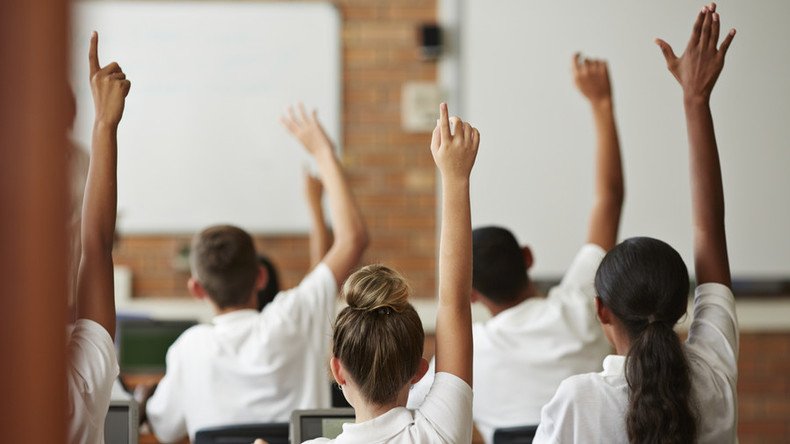 A schoolteacher could be out of a job, suspended for calling a trans pupil by the wrong gender while praising a group of students for a job well done.
Mathematics teacher Joshua Sutcliffe, 27, told a group of students that included a teen who identifies as a boy "Well done girls," when he spotted them working hard in class. Sutcliffe said he was then corrected by the student, and apologized immediately.
The Oxfordshire teacher was suspended six weeks after the incident, when the student's mother lodged an official complaint. The school has conducted an investigation into the complaints made against Sutcliffe, and he faces a disciplinary hearing this week.
The Daily Mail revealed that the family also made claims that Sutcliffe was teaching about religious issues during math class and picking on their child, handing out a disproportionate number of detentions for misbehavior. The bullying claim was not upheld during the investigation into the teacher's conduct.
Sutcliffe, who is an associate pastor at Christ Revelation evangelical church in Oxford, said he had raised religious issues such as the anniversary of the Reformation in his general tutor group, as he encourages older pupils to discuss topical issues in the news. Sutcliffe said this did not occur in any math classes.
The teacher said he was "distraught" by the investigation and pending hearing, as his profession is his life.
"I was absolutely shocked to be told by the head that I was under investigation. I didn't know what was happening. It was surreal, Kafkaesque," he said.
"I said it was only one incident for which I had apologized, but he insisted the investigation would go ahead.
"I had always tried to respect the pupil and keep a professional attitude as well as my integrity, but it seemed to me that the school was trying to force me to adhere to its liberal, Leftish agenda."
But it's not like that . The teacher was Cleary transphobic, 'read up on it'. Top shop are trying something different, the younger generation seem ok with it. It's not nessecerally a trans issue.

— Noitulover (@SoulTatt) November 12, 2017
The £30,000-a-year teacher believed the investigation would be over quickly and he could soon return to the classroom. He has been questioned twice since the suspension, before being sent a letter advising him to attend a formal disciplinary hearing this Wednesday, attended by the head of the school and three governors.
Sutcliffe said was shocked by the school's actions, and felt out of depth and "intimidated" by the probe and upcoming hearing.
"I have never been trained to deal with this sort of thing," he told the Daily Mail.
My right to dress and live as a woman does not carry with it the right to bully your speech or change the way you view the world. Teacher said 'well done girls' and gets suspended. He apologized, but the LOVING left are only ever happy when heads roll https://t.co/0IFMjCnRR2

— TransRealist (@TransRealist) November 12, 2017
"I have been shocked and saddened by the actions of the school, which, in my opinion, reflect an increasing trend of Christians being marginalized in the public square, and unpopular beliefs silenced.
"While the suggestion that gender is fluid conflicts sharply with my Christian beliefs, I recognize my responsibility as a teacher and Christian to treat each of my pupils with respect.
"I have balanced these factors by using the pupil's chosen name, and although I did not intentionally refer to the pupil as a 'girl', I do not believe it is unreasonable to call someone a girl if they were born a girl."
Sutcliffe also said he feels it is a breach of his human rights to force him to use male pronouns when referring to a pupil born a female.
The Christian Legal Centre (CLC) is supporting the schoolteacher throughout the case. CLC Chief Executive Andrea Williams said Sutcliffe's case is one of many that they have encountered, as the "transgender fad" continues.
"This is one of a large number of cases we are encountering where teachers are finding themselves silenced or punished if they refuse to fall in line with the current transgender fad," she said.
The headteacher of the school said they could not comment due to ongoing disciplinary matters.
You can share this story on social media: