Barnier's ultimatum: Britain has less than two weeks to clarify Brexit strategy
Published time: 10 Nov, 2017 17:45
Edited time: 11 Nov, 2017 08:20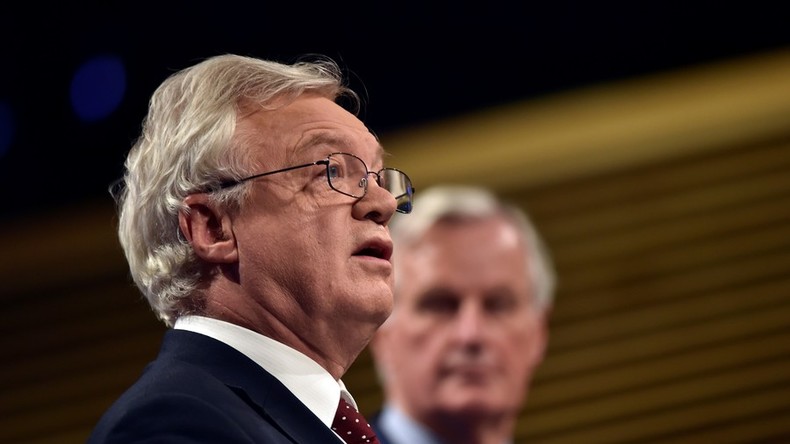 Britain has been given a two week deadline to lay out a proper Brexit strategy as the EU again refuses to accept the vague promises and assertions from London. Talks are hanging on a knife edge, as the possibility of a no-deal situation between the EU and the UK looms.
It is against this backdrop that Michel Barnier, the EU's lead negotiator met his British counterpart David Davis MP in Brussels today. Barnier said there must be firm agreements on the Brexit bill, Ireland and citizens' rights for any progress to be made.
The British Prime Minister's efforts to assure the bloc in Florence last month fell on deaf ears, and Theresa May's assurances that Britain will pay what it owes up until 2020, apparently, were not enough.
"We need to work now over the next few weeks on an objective interpretation of undertakings entered into by Prime Minister May in Florence," Barnier said.
"I think this is absolutely vital if we are to have sufficient progress at the December European Council," Barnier added. When asked if he was giving Britain two weeks effectively to break the deadlock, he answered "yes."
The next European Council meeting will not be convened until March 2018, and if "significant progress" is not made in the interim, it could mean that little or nothing had been achieved in an entire year.
Davis said London remains committed to a speedy resolution.
"We remain ready and willing to engage as often and as quickly as necessary to ensure this outcome," said Davis.
"Now is the time for both sides to move together to seek solutions, this is a serious business."
However, if the EU does not budge, and no agreement over the three vital outstanding issues is reached, Britain will have just one year to arrange a trade and transition deal, which would buy more time for the UK and EU to separate at a slower pace.
If this is not achieved, there will likely be a collapse and the economies on both sides of the bitter divorce could be battered. Barnier has demanded "real and sincere" proposals on the three sticking points, but May's team has, so far, refused to reveal its hand.
Davis repeated his PM's assurances that Britain will pay what it committed to up until 2020. It is widely believed that the EU is after more. "Our European partners will not need to pay more or less as a result of our decision to leave… We will honour the commitments made during the period of our membership," he said.
Britain's Brexit team has repeatedly argued all three issues will need to be ironed out once progress is made in other areas. "To find a way forward will require pragmatism," Davis said.
He claimed the border issue with Ireland cannot be fully resolved now, since Britain's future relationship with the EU is yet to be decided, and the outcome will impact on that negotiations. The EU must be "under no illusion," that the border issue can be resolved in phase one of the talks, Davis said.
Barnier said progress has been made in some areas. "The system should be simple to use and low-cost," he said. "We also needed reassurances on how people who are rejected can appeal. The UK has now provided useful clarifications that are a good basis for further work."
EU leaders will meet in Brussels on December, 14-15 to decide whether or not to initiate the second phase of negotiations.